Ergonomic lift tables that improve worker performance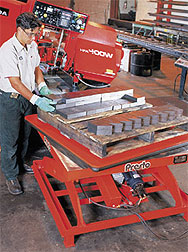 Serving the great southwest with excellent lift table choices
Cisco-Eagle listens to our customers and when they said they needed ergonomics solutions for pallet loading and unloading, we had the answer. Our expert team designs, specifies and integrates solutions to improve ergonomics, as well as speed production and reduce the chance for worker injury. We work with many scissor lift manufacturers and cover the wide range of lift requirements you may have from pallets, cartons and components to heavy machinery, bulky parts and finished products.
Explore your options - call us or submit an inquiry for your project.
Scissor Lift types and brands from Cisco-Eagle
Innovative engineering in heavy-duty scissor lifts for manufacturing and fabrication including double-high, double-wide and pantograph models
Improve worker ergonomics when working with pallet loading and unloading. Choose from lift tables, scissor lifts, pneumatic and hydraulic options
Economic scissor lift and lift table solutions from Presto Lifts
Need help today?
We also provide heavy duty lift tables from Southworth, Advance Lifts, and others as needed to meet client requirements. Cisco-Eagle has experience integrating lifts into conveyor systems, dock areas, assembly applications, order picking, palletizing/depalletizing operations and more. Please contact us for fast assistance.