Transferring onto belt conveyors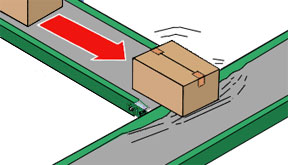 Transferring onto belt conveyors isn't recommended due to box tracking issues. When you use belt conveyor, boxes will probably drag the belt as they enter, which will push the belt toward the far side. (Above: boxes may cause tracking problems)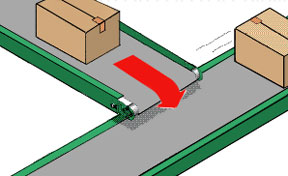 If you can't avoid using belt conveyors to transfer, the transferring conveyor should be positioned so that it overhangs the belt conveyor, as shown above. Boxes will drop onto the conveyor. If your load cannot be dropped, another solution may be necessary. For assistance with these kinds of transfers, contact us.
Tags: belt conveyor systems, Conveyor, maintenance, product damage, warehousing
---
Scott Stone Cisco-Eagle's Director of Marketing. He has over 25 years of experience in the industry.