Podcast: 5 Easy Ways to Save $100,000 in Distribution Costs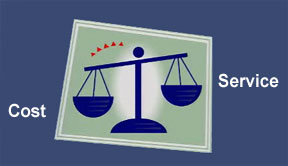 The folks at the Material Handling Institute of America have thrown all of last year's ProMat sessions in Podcast/Webcast form onto their website, for free. This presentation is intriguing – who doesn't want to save a hundred grand? It's presented by Louis J. Cerny, Vice President of Sedlak, and lasts about 37 minutes; it's easy to listen to in the background if you don't feel the need to watch the slide presentation.
According to Cerny, "Even the most efficiently run distribution operations can be more efficient. This session will help attendees understand how a thorough diagnostic assessment of their distribution facilities can reveal opportunities to save a bundle. Through a rich array of real examples, attendees will learn at least five ways to save big." Cerny says that the presentation is meant for a distribution facility of about 100,000 square feet and 40 people doing picking and direct floor operations. It's about an 18% savings for an operation of that size. Some of it may or may not scale to your business, but it's an interesting presentation.
You focus on the biggest cost "buckets": Labor, Utilities, Facility.
Tags: distribution centers, labor management, standardized procedures, warehousing
---
Scott Stone Cisco-Eagle's Director of Marketing. He has over 25 years of experience in the industry.