Does Labor Cost you $2.24 an Hour?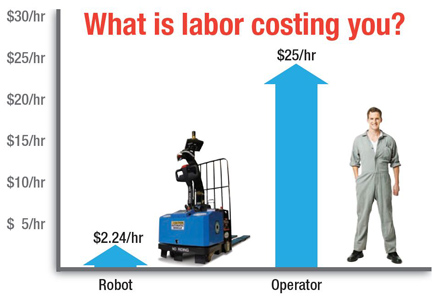 We all get it: labor is expensive. In distribution & warehousing  it's one of the most expensive line items.
Automation and utilization of certain technologies (conveyors, as/rs, robotics) has helped alleviate these expenses and made companies more competitive, but there is no end in sight to cost pressures coming both from foreign competition and customer demand. Seegrid has created this graph, comparing the hourly costs of its driverless automated forklifts and that of a human operator.  The Seegrid trucks require no overtime, no dental insurance, and don't take breaks. The unique thing about the Seegrid line is that it can deliver day-one ROI.
---
Scott Stone Cisco-Eagle's Director of Marketing. He has over 25 years of experience in the industry.