Automation for Everyone: Cisco-Eagle Q&A with Seegrid
Amanda Merrell breaks down Seegrid's vision for automation in 2014
Last month, Cisco-Eagle traveled to Atlanta, GA to take part in the supply chain expo, Modex.  We were there every day of the show, demonstrating innovations in forklift and industrial safety as well as focusing on other material handling innovations. It was a great opportunity for us to take in the innovations, see customers, and learn about new ways to solve problems.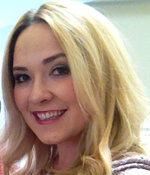 When time allowed (it was a jam-packed 4 days!) we toured the floor to discover the latest manufacturing, distribution, and supply chain solutions from the industry's leading innovators.  We're grateful we had the opportunity to sit down with Amanda Merrell, Marketing Director for one of our partner companies, Seegrid, a manufacturer of automated guided vehicles (AGVs) for the material handling industry. 
As a distributor of Seegrid products, we wanted to get the company's perspective on everything from industry trends to safety in the workplace to the future of manufacturing.  The following is excerpted from our interview:
Cisco-Eagle: What are some of the key trends/ways you are seeing organizations shape safety in the workplace this year?
Amanda Merrell: Safety has drastically increased because automation is reliable and it's consistent.  So, for example, you've got a forklift driver driving around a warehouse – he's reactive, whereas automation is consistent and it's always happening the same way, every time.
Also, employee safety has increased.  When you have automation, you're able to decrease product damage and equipment damage, so the overall facility safety is increased when you take the operator out of the picture and redeploy them to an area where they provide more value to the facility.
CE: What are some of the key trends you're seeing in the industrial manufacturing industry this year?
AM: Something that's kind of interesting (and more popular in Europe right now but we're hearing some of our customers talk about it) is the "Forks Free Initiative," which means getting the forks out of the facility.  A lot of companies are turning to automation because it allows them to increase safety (like we just talked about earlier). 
But I would say this idea of "forks free" really applies to automation.  Seegrid, for example, saw nearly a 400% increase in sales last year.  To me, that shows that companies are turning to automation because it's more affordable and safety is a big piece of that, especially with this "forks free" initiative that many companies are implementing.
CE: It seems especially true, with the increased emphasis on efficiency and productivity, that it would be important to maximize automation.
AM: Definitely.  When you can have a vehicle doing the work of two or three employees, you're going to run much more efficiently, especially when (automation vehicles) can be running 24/7, they don't take breaks, they don't go on vacation, etc., so you're going to run a much more productive operation.
CE: And there's not the risk of injury too, right?
AM: Definitely.  Workers' comp is a huge issue that companies deal with.  When you can have automation doing that work, you can have someone off that vehicle doing something else instead of getting on and off the vehicle, bending over having to pick up large, bulk goods and getting them on the pallet. 
CE: That's an interesting idea: moving workers elsewhere so they're not doing as much of the manual labor. 
AM: Yes, redeploy them to areas where it's better for a human to do the work, versus an automated type of vehicle system.  As we discussed earlier, automation is really great at repetitive, consistent tasks.  So let the employees make the decisions and redeploy them to areas where they can be more productive and more efficient.
CE: Any top takeaways from the show this year?  How are things going a few days into this?
AM: It's been a great show for Seegrid.  We've had a lot of people interested in our product line; we also launched our newest product, the Walkie Stacker, at the show and we've added a new dimension to our product line.
Before, all of our transportation was done horizontally to get goods from point A to point B but, with our new Walkie Stacker, it can actually take goods off a conveyor or an ergonomic lifting table and put them into racking, so we're providing a fully automated solution. 
We're playing into this idea of our theme for the year, "Automation for Everyone" by giving attendees the opportunity to win this new product.  So we stand by this theme because it really is for everyone.
Stay tuned for additional interview excerpts, blog posts, and key takeaways from Modex 2014!
Tags: Automation, Robotics, warehousing
---
Scott Stone Cisco-Eagle's Director of Marketing. He has over 25 years of experience in the industry.