CE Marking for AGV's: What is it; Why it's Important
AGVs manufactured to EU standards are often better documented
AGV & Robotic Truck Systems Inquiry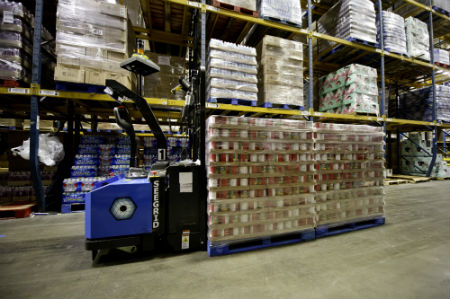 Manufacturers of automated equipment such as robots and AGVs, have an ethical and legal responsibility to produce the safest products possible. Worldwide, there are standards relating to the safe design and operation of equipment. These standards are generally developed using procedures administered by a number of recognized standards organizations. Inputs are received from users, designers, manufacturers, governmental bodies, etc. and then formed into a standards document by volunteers (the names you see as "committee members".)
Seegrid's Chief Technology Officer, Mitchell Weiss, helps us run down the differences.
Recognized Standards Organizations

In the production and use of AGV's, relevant standards are administered by a variety of established organizations; here is a partial list:
ANSI – American National Standards Institute
ISO – International Standards Organization
ITSDF – Industrial Truck Standards Development Foundation
IEC – International Electrotechnical Commission
UL – Underwriters Labs
NFPA – National Fire Protection Association
The American Approach
In America, conformance to standards in the design, production and use of equipment is not fully regulated. OSHA section 1910.178, Powered Industrial Trucks, says, "All new powered industrial trucks acquired and used by an employer shall meet the design and construction requirements for powered industrial trucks established in the "American National Standard for Powered Industrial Trucks, Part II, ANSI B56.1-1969…" but only requires the manufacturer to apply a label asserting conformance. Some operations may require the conformance to be certified by an "approved" lab such as UL or ETL, but that is only "required" when certain fire hazards are in play.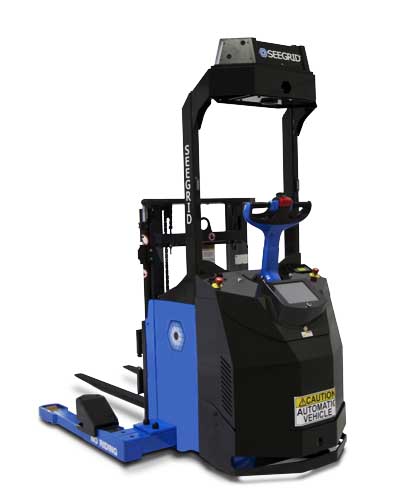 The European Approach: CE Marking
CE Marking, according to Wikipedia, is "…a mandatory conformity marking for certain products sold within the European Economic Area (EEA) since 1985.[1] The CE marking is also found on products sold outside the EEA that are manufactured in, or designed to be sold in, the EEA. This makes the CE marking recognizable worldwide even to people who are not familiar with the European Economic Area. It is in that sense similar to the FCC Declaration of Conformity used on certain electronic devices sold in the United States."
Europe takes a more regulated, or "normative" approach. In order to operate as a unified and integrated economic community, the EU had to "harmonize" a large number of national standards, and to legislate their use and application so that the wheels of commerce could move smoothly. One of the key components of this harmonization, with respect to industrial machinery, is a piece of legislation titled, "DIRECTIVE 2006/42/EC OF THE EUROPEAN PARLIAMENT AND OF THE COUNCIL of 17 May 2006 on machinery, and amending Directive 95/16/EC (recast)". It is 63 pages long, and includes vast detail on what must be done before putting a piece of machinery on the market.
Of interest to us is this section:
Article 5
Placing on the market and putting into service:
Before placing machinery on the market and/or putting it into service, the manufacturer or authorized representative shall:
a) ensure that it satisfies the relevant essential health and safety requirements set out in Annex I;
b) ensure that the technical file referred to in Annex VII, part A is available;
c) provide, in particular, the necessary information, such as instructions;
d) carry out the appropriate procedures for assessing conformity in accordance with Article12;
e) draw up the EC declaration of conformity in accordance with Annex II, part 1, Section A and ensure that it accompanies the machinery;
f) affix the CE marking in accordance with Article 16.
The next 60 odd pages tell you how to do those things, including the exact design of the "CE" label.
CE Conformance

Here is how this is different and important. It is the law in Europe that if you are going to sell a piece of equipment, you must:
ENSURE that it conforms with all the relevant standards. That means testing, measuring, documenting, etc.
ENSURE the technical file is available. The technical file is LARGE design file that includes ALL of the necessary design and test documentation to prove conformance to a variety of alphabet soup standards. Seegrid checks, tests, and documents conformance to over 30 different ISO and IEC standards . US regulations do not require this document to exist. Usually it is drawn up AFTER an incident as part of a lawsuit. To meet the CE labeling requirements it must be done proactively.
ENSURE the technical file is available. (Seegrid keeps a copy of each file for each different truck model available to regulatory agencies and authorities. Summary documents are available to customers who want to see them that include every component of every standard and requirement to which Seegrid conforms.)
Provide the necessary information means having complete manuals, training programs, and instructions available before delivering any systems.
Carry out appropriate procedures. Some of the parts of the machinery directive itself describe the methods and content of the manuals, testing, the technical file etc. Some of the standards, such as ISO 12100, ISO 13849 very specifically describe the methods for performing safety assessments and design conformance. These are all documented in the technical file (think of the worksheets you fill out when doing your taxes)
Finally, generate a declaration of conformity (DOC) with all of the legally required information, and apply the CE mark to the product.
Technical File – Document, Document, Document…
The DOC (declaration of conformity) is shipped with each AGV, and carries the signature of a responsible corporate officer.
That is the big difference between companies that manufacture product only for use in the United States, and that sell product in the European Union. While it is a large task to generate the technical file for CE marking, it also provides some great advantages. The process is so well documented it "acts" like a third party expert who knows everything about the product and is checking it to the smallest detail. Most companies fret about CE marking, seeing it as a great burden. It is difficult, but it is also a great practice that drives discipline into the design and testing process, resulting in equipment that is far more documented for end users.
Ask your supplier if they can CE label their AGV. Ask them what standards they meet. You will be happy if you do.
As Seegrid's Chief Technology Officer, Mitchell Weiss is responsible for the strategic and operational leadership of the engineering and manufacturing departments.
Tags: AGV's, Automated Guided Vehicles
---
Scott Stone Cisco-Eagle's Director of Marketing. He has over 25 years of experience in the industry.