Cherie Speer is Cisco-Eagle's 2014-2015 Employee Owner of the Year
This annual award is presented by a committee of our employee owners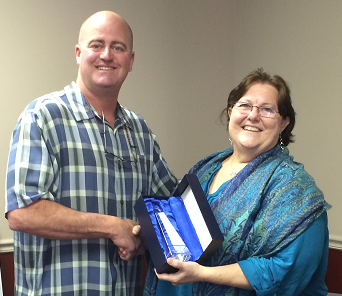 Pictured: Cisco-Eagle President Darein Gandall presents the 2014-2015 ESOP Employee Owner of the Year Award to Cherie Speer.
Cherie Speer of our Tulsa, Oklahoma office is the 2014-2015 Cisco-Eagle ESOP Employee-Owner of the Year, an annual award presented by our ESOP (employee ownership) Advisory Committee.
The award recognizes an employee-owner who has gone beyond what is expected to promote and support ownership culture. Cisco-Eagle believes that empowered, fully-invested employees who own a stake in their company is the best business approach. It allows us to provide superior customer service and engagement. This award is not selected by senior management — it is awarded directly by a committee of employees based on a nomination process that includes all employees. It is an award to one employee from his or her peers.
Business results and dedication to employee ownership
In her role as Product Data Coordinator, Cherie is a driving force for the success of www.cisco-eagle.com. Her work on the website has resulted in many successful product launches, ranging from safety products to storage racks to conveyors. She is a frequent contributor to our Warehousing Insights Blog, and coordinates manufacturer training for many of our sales and engineering employees. She works directly with our wide range of vendors to improve communications and align our sales and marketing efforts with those of our partners.
She is an exceptionally hard worker who always finds a way to get things done.
Cherie is a multi-term member of our ESOP Advisory Committee member and attends business huddles and other company functions relating to employee ownership. Her excellent communication skills are utilized in vendor relations and issue resolution. She has taken an active role in questioning business processes, offering solutions and putting them into practice.
Above and beyond
She has volunteered to head up special projects such as the Oktoberfest Employee-Ownership Month event, the ESOP publications and ESOP awards submissions. She has been tapped by leadership for various special projects such as the initial Vendor Relations Management Team lead, which led to her being assigned as the vendor relations coordinator for Cisco-Eagle. Cherie also has executed a variety of special assignments outside her job responsibilities as Product Data Coordinator.
Cherie is a tireless promoter of  ESOP awareness for employee-owners with a can-do attitude.
She does a great job of corralling employees in our office to attend events and reminds everyone of upcoming events. She not only takes time to be involved in these activities, but also has attended Southwest Chapter ESOP conferences in the desire to bring new ideas to our own ESOP Advisory Committee. Cherie will represent Cisco-Eagle at the 38th Annual ESOP Conference & 24th Awards Ceremony in Washington, DC this May. She is our nominee for the ESOP Association Southwest Chapter Employee of the Year, an award that will be made in 2016.
Congratulations, and many thanks to Cherie on a job well done!
Tags: awards, Employee ownership, marketing
---
Scott Stone Cisco-Eagle's Director of Marketing. He has over 25 years of experience in the industry.