The Best 2017 Events for Warehousing, Manufacturing & Safety Professionals
Advance your career and your company's profitability with these educational opportunities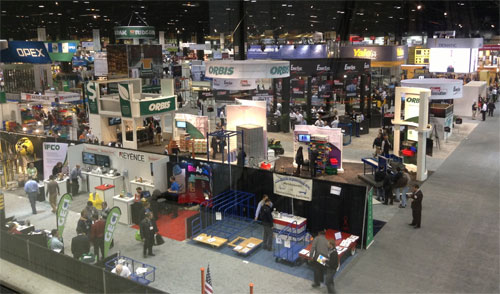 It's important for professionals to retain an edge by continuing our education, exposure to new ideas, new products, and technologies. Events and Tradeshows provide great avenues to stay sharp on the latest concepts. Below is a list of upcoming events you should consider as you kick 2017 off to a productive start.
The NSC TSCE is your opportunity to meet with like-minded safety, health and environmental professionals in Texas. Educational opportunities include learning lands, technical sessions, and more. A large number of exhibitors are booked, including Cisco-Eagle. We'll be on hand with the innovative AisleCop® forklift safety system, AisleAlert warning systems, and other industrial safety innovations. Come see us!
This is a good event for logistics and order fulfillment professionals. It's described as "From warehousing and workforce management, ecommerce and contact centers, inventory and order management to payment processing; from pick, pack and ship to delivery and returns; technology, automation and systems integration, to transportation and global operations." The event features tours, educational opportunities, workshops, and an excellent roster of exhibitors.
This is the big show for material handling, distribution, manufacturing and warehousing. There will be 850 exhibitors, scores of educational seminars, and the chance to network with peers.
What's more, by attending, you can also visit Automate 2017, co-located with ProMat. "Automate showcases the full spectrum of automation technologies and solutions. From traditional industrial applications to cutting edge new technologies, you'll find ways to automate every process in your company. It's held just once every two years, so be sure to take advantage of this opportunity to find the right solutions to meet your automation challenge."
This show is a critical event for food manufacturing and distribution, "where food and beverage pros gain an edge," with 150,000 feet of exhibition space with 600 exhibitors, and a variety of workshops. "This dynamic conference program is designed specifically for food and beverage professionals in operations, plant management, engineering, R&D, quality assurance, supply chain management, sales, marketing and business development."
According to WERC, this show features "today's fast-moving supply chain demands that you stay on top of issues that concern warehousing and logistics professionals, such a workplace safety, technology, metrics, security and productivity."
Cisco-Eagle will exhibit at this year's WERC conference. We'll be talking about ways to increase efficiency, reduce costs, enhance safety, and move ahead in any distribution or manufacturing operation. Drop by and see us!
With its emphasis on continuing education, ASSE is a must for safety and EHS professionals. "For more than 50 years, the ASSE's Professional Development Conference has been and will continue to be the direct reflection of what is taking place in the occupational, safety and health industry." Loads of seminars, workshops, events and a large exhibition hall with thousands of new ideas are on tap for Safety 2017.
Cisco-Eagle is exhibiting our exclusive AisleCop® forklift safety system and other industrial safety technologies this year at Safety 2017 – plan to visit us!
"North America's largest packaging event of 2017, will bring together the solutions you need to launch a new product, solve production issues and keep your products competitive" Pack Expo delivers over 2,000 exhibitors, on-floor educational seminars, and extensive networking opportunities. Co-located with the Healthcare and Packaging Expo, this is one of the biggest events of the year.
Billed as "Racing to Safety", this event is one of the best safety conferences in the industry, particularly for warehousing and manufacturing professionals. Educational opportunities abound, including great keynote addresses, technical sessions, workshops, continuing education/development, and lots more. Over 1,000 exhibitors are on hand — including us.
Cisco-Eagle is exhibiting our AisleCop® forklift safety system, AisleAlert warning systems, and other industrial safety technologies at this event. Drop by and see us in action.
More to come…
We'll be updating this post with more events as the year goes on. Check back often!

Tags: conferences, ProMat, Safety & Ergonomics
---
Scott Stone Cisco-Eagle's Director of Marketing. He has over 25 years of experience in the industry.