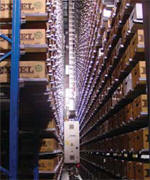 If you're in the North Texas area or can easily make the trip, I highly recommend that you attend the North Texas Warehousing Education and Resource Council  "Celebration and Education" seminar on December 10, 2008 in Dallas at the Marriott DFW Airport North.  It's an excellent day of networking, education and fun. Cisco-Eagle's Donald Prater is presenting at this session, on the topic "Cargill Excel Beef Case Study – Taking Order Fulfillment to the Next Level." Donald has implemented multiple facilities for Excel over the years and has keen insights on how to best improve the operations at these kinds of fast-paced, complex operations that you can apply to an operation of almost any kind.
The conference costs $30.
See  our case study on Excel's innovative order fulfillment project.