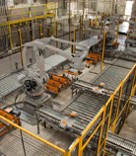 Cisco-Eagle has always provided integrated material handling systems, but we're entering a new phase by partnering with companies like SSI Schaefer, HighJump WMS, Orion Packaging, Fanuc Robotics, ABB Robotics, von Gal, and more. We recently invited Dr. Sam Chen to join us as Senior Robotics and Software Engineer. Dr. Chen will complement our existing controls and implementation services, allowing us to integrate robotics, palletizers, packaging machinery, and other equipment with conveyors and other material handling solutions.
We have engineered and implemented hundreds of systems in distribution, manufacturing, order fulfillment, and other applications. We can now help clients to a greater degree by providing advanced control systems, robotics, and more.
More details on these partnerships are coming soon.