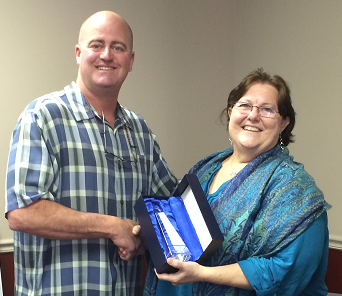 Pictured: Cisco-Eagle President Darein Gandall presents the 2014-2015 ESOP Employee Owner of the Year Award to Cherie Speer.
Cherie Speer of our Tulsa, Oklahoma office is the 2014-2015 Cisco-Eagle ESOP Employee-Owner of the Year, an annual award presented by our ESOP (employee ownership) Advisory Committee.
The award recognizes an employee-owner who has gone beyond what is expected to promote and support ownership culture. Cisco-Eagle believes that empowered, fully-invested employees who own a stake in their company is the best business approach. It allows us to provide superior customer service and engagement. This award is not selected by senior management — it is awarded directly by a committee of employees based on a nomination process that includes all employees. It is an award to one employee from his or her peers.