Storage Cabinets with Bin Storage
Lockable cabinets with high density bins included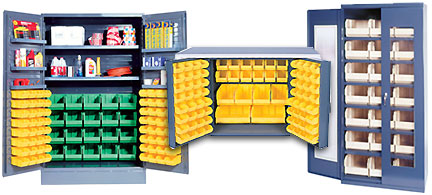 36" Wide Cabinets
A wide variety of lockable bin cabinets from full height 72" to 36" high cabinets. Plenty of bin, shelving, drawer, and other storage options. Many sizes and styles of bins. They ship ready to stock and utilize.
48" Wide Cabinets
48" wide, 72" tall lockable bin storage cabinets, with various bin styles and sizes, door styles, and other options.
60" Wide Cabinets
Massive, 60" wide bin storage cabinets for heavy-duty, high density storage. They store hundreds of bins in a single cabinet so everything you need is accessible, right at hand.
Wire Mesh Bin Cabinets
These heavy duty, high strength steel cabinets lock away valuable tools, parts, & inventory securely away behind a solid, lockable expanded metal door set that allows you to visually inspect contents.
Pick Rack Cabinets
These cabinets feature sloped picking shelves and bins. The removable shelf bins are on the sloped shelves, making it easier to pick from them. Every model stores at least 100 bins.