Metal Shelving with Modular Drawers
Combine bulk & modular storage storage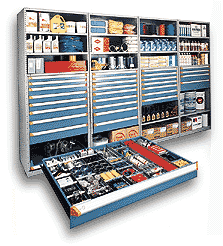 Reclaim up to 70% of your floor space by replacing shelving & bins with shelving units and modular drawers
Includes shelving and fitted, modular drawers in a huge variety of configurations
Store cartons or boxes on the shelves above your drawers and small parts in modular drawers
Drawers with 400 pounds capacity open to their full extension, giving you visibility into stored items all the way to the very back of the shelf
Easy to lock, difficult to move storage unit for valuable tools and inventory
75"H x 36"W
75"H x 42"W
75"H x 48"W
87"H x 36"W
87"H x 42"W
87"H x 48"W
Shelf Inserts
Place these drawers in new or existing shelving, creating organizational storage where only a couple of flat shelves existed before. Combining shelving with modular drawers gives you the most versatile storage possible. You'll be able to store cartons or boxes on the shelves above your drawers, and small parts in your modular drawers. This is extremely configurable and customizable, compartmentalized storage.
Conventional shelving can easily be converted into modular drawer storage. We offer a range of solutions for this and can provide either new shelving units with modular drawers, or provide drawers for most kinds of existing shelving.
Significant space saving advantages
Reclaim up to 70% of your floor space by replacing shelving & bins with shelving units and modular drawers. Use your existing shelving if you want -- we will help you match the modular drawer system to your existing shelves.
For assistance, contact Cisco-Eagle customer service.