Lista Storage Wall Systems
Highly configurable systems allow bulk storage and modular organization in the same footprint
Highly organized tools, parts, and component storage system is secure and versatile
Highly configurable to meet your exact needs
6 standard heights, up to ten feet to fully use the vertical cube in tight storage applications - incredibly space-efficient
Can be configured with a mezzanine for even higher density storage solutions
Doors, drawers, roll-out shelves and other storage products allow storage walls to handle almost every need

How it works:
It's a build-as-you-go system. Each system consists of a pair of matched-height vertical side frames joined with appropriate width top and bottom universal panels. For lateral stability, rear panels or diagonal braces are fastened to the side frames. Rear and end panels can be used to enclose the sections. To add a section, just order an additional side frame and the appropriate universal panels for the section width you are adding. All basic components for both full and shallow depth Storage Wall Systems can be ordered by contacting Cisco-Eagle.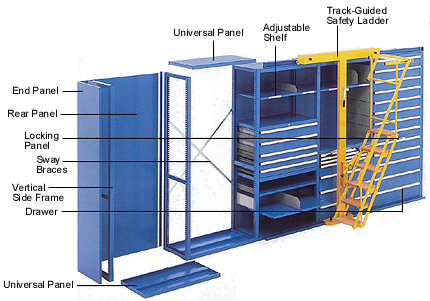 The Storage Wall system lets you combine drawers, roll-out trays, heavy-duty roll-out trays, wide span beams, a variety of doors, and the Roller Shelf.
Custom design each section to match the size of what you're storing.
The Storage Wall system makes maximum use of available ceiling height.
Storage Wall systems come in six standard heights up to 10', and can be arranged as multi-story installations with mezzanines.
The uniquely flexible Storage Wall system can change to meet your changing needs.
Storage Wall systems are available with a variety of doors and locking systems to protect your stored items. Door options include sliding doors, hinged doors and vertical tambour doors.