Rack Back installs easily on "teardrop" style racks, but require different hardware for other styles of uprights
The Rack Back products shown here include mounting hardware for teardrop style pallet rack uprights. If your rack uprights are another type, contact us for pricing with the appropriate mounting hardware.
Protect Employees and Inventory
To shield your racks, wire panels are mounted directly to pallet rack as a backing system that puts a steel barrier between inventory and the picking aisles below. Mounting bracket length may vary to accommodate pallet overhang so that the panel can help prevent product and pallet spills. Once in place, the panels create a "wall of protection" for employees working near the rack or walking through pallet rack aisle ways. Hinged or sliding gates may be added to totally enclose the rack, as well as its contents.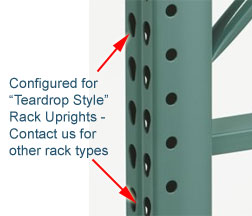 Specifying Racking Wire Panels
Beam width between rack uprights
Upright width
Overall number of bays
Required offset dimensions from upright to panel (allows for pallet overhang)
Mounting height above floor (if not flush to floor)
Overall height of rack uprights
Desired backing height
Add hinged or sliding gates to the pallet rack to help secure inventory
Hinged Gate
Sliding Gate
It's simple to add extra security to your pallet rack system with hinged and sliding gates. Control access and prevent inventory theft with our pallet rack enclosures. See rack security cages for preconfigured RackBack with swinging gates for more details.