Vertical & High-Density Farming
We can help you maximize your process from growth to storage to packaging and distribution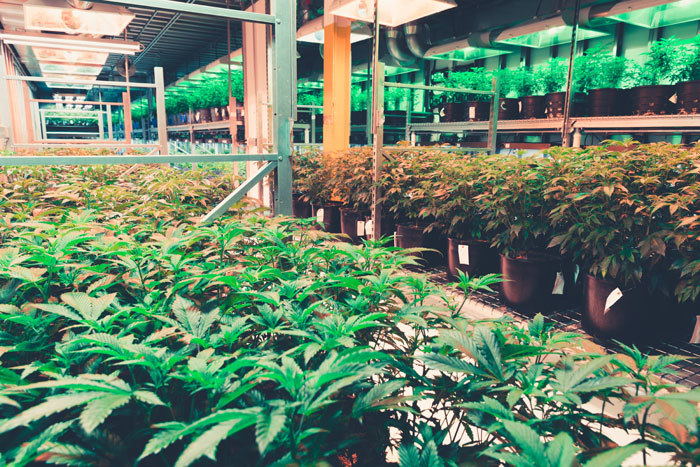 Vertical cultivation & space planning is critical
Space is critical to successful vertical farming operations. In many areas, traditional warehouses are excellent facilities for grow operations. The issue is wasted vertical space in these facilities, as they feature high ceilings and unutilized vertical "cube". A number of potential solutions are available for these operations to help you maximize space and produce product at a lower cost without compromising quality. These include:
Vertical racks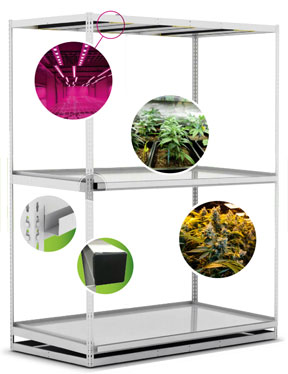 Shelving systems
Traditional industrial shelving can be used in vertical operations. These systems are typically tended to from ground level and manually attended. They reduce your nursery footprint by stacking multiple levels of plants in a compact space. Typically lights are installed on or around the shelves. This method may mean that you nurture smaller plants (in the cloning phase or vegetative cycle) before they flower and grow too tall for tighter shelf spaces. For other operations, taller vertical shelf spacing can be used to build a storage system that allows all phases of growth. This choice depends on your facility and process.
Trough shelving: Use these shelves for efficient drainage. With an engineered slant and durable trough built into shelves, you can designate where drainage runs for better moisture control. Troughs have open ends so you can add PVC drains or tubes wherever needed.
Wire decking: Wire decks are frequently used in vertical applications. They do not control drainage, but they don't retain water, which passes through to lower levels. This is a viable moisture control method for many facilities.
Lighting strategies: Most any modern lighting technology interfaces easily with trough shelves, making it simple to light your plants from any point along any shelf in the system.
Shelving sizes: Standard post heights: 6', 8', 10' and 12'. High rise posts are available for larger systems that require access from multilvel systems or order picker vehicles.
Mobile aisle, high-density farming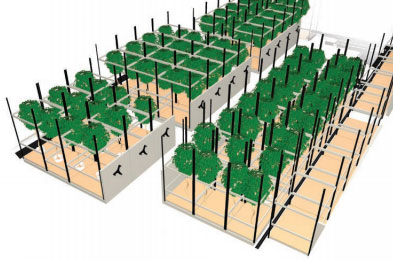 These systems eliminate aisles for very high-density operations, but still allow easy access to your crop.
Mezzanines & platforms
Automation
To reduce your cost of operation without impacting quality means fully utilizing space before expanding or purchasing new facilities. Let us help you find exactly the right blend of solutions before you consider other alternatives to maximum space utilization.
Storage, warehousing and packaging
The (text)
Carts
Security concerns