Call us for expert assistance on your next scissor lift project
Little Rock, Arkansas Home Page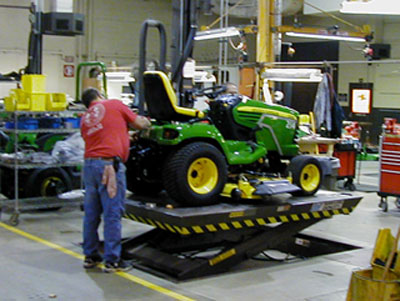 Do you want to buy a lift...or the right lift?
Manufacturing, distribution, warehousing and commercial operations utilize lift tables to help them work faster, safer and more efficiently. Let our local specialists visit your facility and work with you to create exactly the right solution for your next industrial lift application. We can help you with a variety of lifters, tilters and positioners from top companies like AutoQuip, Bishamon, Southworth, Presto, Advance Lifts and more.
Scissor lift details from Cisco-Eagle:
AutoQuip manufactures lift tables to fit virtually any application from lifting a pallet to huge components. The company offers double/triple-height, extra-wide, extra-long, and the highest capacities in the industry. Custom lifting challenges welcome!
Bishamon builds innovative lifts for flexibility, including low profile, compact, self-leveling, mobile lift and other solutions in manual, hydraulic or pneumatic configurations.
Presto manufactures hydraulic and pneumatic lifts, loaders, and tilt tables for a broad variety of applications. Located in Arkansas, the company ships top quality lifting solutions worldwide.