High security enclosures and partitions in a variety of configurations
Little Rock, Arkansas Home Page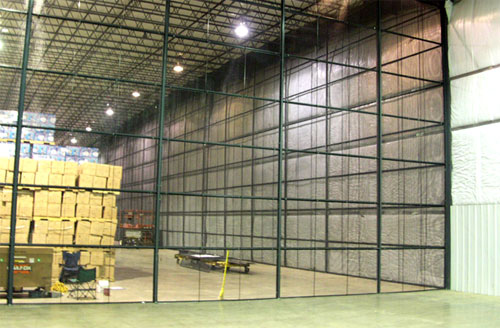 Security cage types from Cisco-Eagle:
(Note: many sizes, shapes and configurations are available. Contact us for personal assistance.)
Security is a growing concern for industrial facilities
Studies tie supply chain security directly to performance. Experts tell us that companies who pay attention to the details (like security, like safety) tend to run cleaner, less costly operations. These companies make fewer mistakes and are more organized. For warehouses and manufacturing operations, physical security is usually tied to storage. In recent years, we've helped many companies create secure storage areas in their facilities, and wire security cages are one of the best tools available for that. Since these WireCrafters cages are modular, they can typically be moved or expanded post-installation.
Our clients install WireCrafters partitions in tool cribs, for high value products, to secure servers and power supplies, around warehouse entry doors, and in stringent environments like controlled substance or evidence rooms. Partitions are typically 8' or 10' tall, but virtually any height, size, or shape can be created to suit your space and needs.