Systems
>
Industrial Carousels
>
Automated Vertical Carousels
>
Vertical Lift Modules
Vertical Lift Modules
Efficient automation fully utilizes vertical space, enhances picking speed and accuracy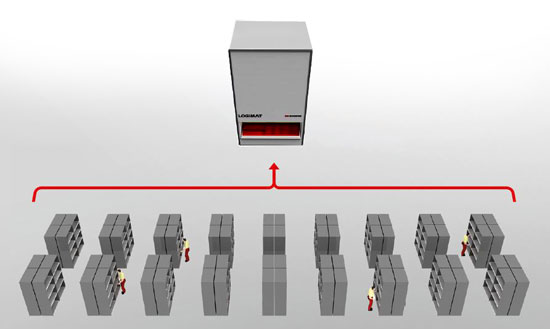 Vertical lift modules are an automated storage and order picking solution that significantly increases the performance of your warehouse and the flexibility of your storage and order picking processes while increasing storage density and saving space. The SSI SCHAEFER LogiMat® can be used as an autonomous system or integrated into an automatic application for the storage, provision and order picking of small parts. LogiMat®works according to the convenient principle "goods to man".
Performance increases of up to 20% thanks to ergonomic design
Minimizes incorrect commissioning with the aid of computer-controlled processes
Reduces employee travel time during storing and picking by more than 70%
Increases the commissioning speed by six to ten times because of process automation
Reduces the storage space required vs. traditional storage
Reduces energy and storage costs thanks to extremely compact design
Maximum product protection
Stored items are completely encased for maximum protection and security, accommodating tray loads of varying heights while providing superior performance and storage flexibility.
Warehousing Insights | Material Handling Systems » Automation Topics from our Blog