Systems
>
RFID Resources
The Cisco-Eagle RFID Resource Center
How can you take advantage? What impact will it have on your business?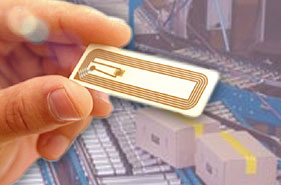 Radio Frequency Identification is becoming a reality - How will the advent of RFID affect your business? How can you benefit from it? You've heard these four letters - RFID - so often since giant retailer Wal-Mart announced plans to implement the technology that to call it a buzzword is an understatement.
But what does it mean to the supply chain, to distribution centers and manufacturing facilities, even if they aren't supplying any of the mega-retailers who are moving into the RFID world?
Radio frequency (RFID) identification technology refers to wireless systems that allow a device to read information contained in a wireless device or "tag" from a distance without making any physical contact or requiring a line of sight between the two. It provides a method to transmit and receive data from one point to another.
It's not just Wal-Mart...
Other retailers are following Wal-Mart's lead. Tesco, Marks & Spencer, Target, and others want the efficiencies RFID can drive. For them, it's mostly about keeping the shelves accurately stocked. Suppliers to these companies (and presumably suppliers to those suppliers) are scrambling to understand the technology, its costs, and its benefits.
Government will also be utilizing the technology in a number of areas. Are your systems able to keep pace with the changes, and with the demands of major retailers, institutions, and other important partners or customers?
Consumer fears
Consumer groups fear that RFID could threaten their privacy. Theoretically, RFID tags could be used not only to track the whereabouts of items in a supply chain, but people. The idea sounds farfetched, but it isn't impossible - Europe is already issuing passports with RFID chips in them and the United States will follow suit.
The costs of RFID
For something that has stirred up so much buzz, RFID is notably absent from today's supply chain. It's only really begun to be used, but it's coming. Retailers, suppliers to those retailers, and transportation companies see it coming to them faster than anyone else.
RFID resources
We're keeping you up to date with frequent articles on RFID and how it can affect your business, especially on the order fulfillment, distribution, manufacturing and commercial spaces.
Warehousing Insights | Material Handling Systems » RFID Topics from our Blog