Yard Management Software
Graphical yard management, security, inventory visibility, dynamic appointment scheduling and real-time trailer location tracking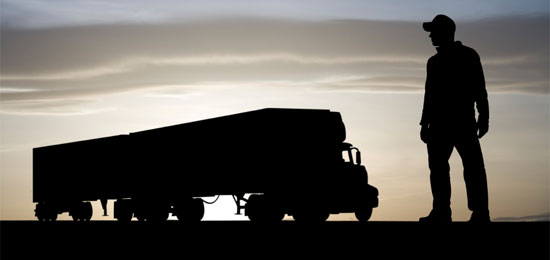 Does productivity inside your warehouse start inside your warehouse?
Warehouses that perform at high levels are directly connected to the entire supply chain. Getting to a truly optimized warehouse can require improvement not just within your walls (often called internal logistics) but also in the yard. High-performance inventory optimization may begin there, where inventory enters and leaves, before it hits the receiving docks.
Professionally manage your yard with HighJump™ Yard Advantage
The HighJump™ Yard Advantage yard management system (YMS) provides real-time information, intelligent work direction and complete visibility of trucks, trailers, drivers, goods and materials—from the moment they arrive at the gate to the moment they leave your facility. With a graphical interface, you can manage yard transactions easily. Drag-and-drop functionality converts on-screen trailer moves into RF-directed work for yard drivers. At-a-glance symbols display key information such as trailer type, status, disposition, ownership, which trailers are damaged/out of service, and fuel remaining in refrigerated vehicles.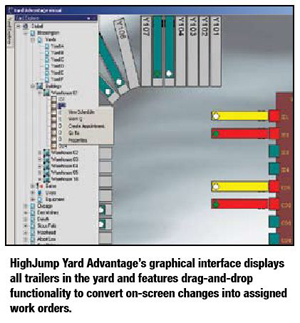 With HighJump Yard Advantage's graphical interface, you can manage yard transactions easily
You'll also be able to track the location of trailers and other equipment--no matter where it ends up in the yard--with RFID-based, real-time location tracking. This ensures security and streamlines workflows by providing you with the actual position of equipment in the yard, eliminating time-consuming searches for misplaced trailers. Additionally, dynamic appointment scheduling capabilities will streamline dock assignments, helping to ensure you don't double book docks--even if circumstances change at the last minute.
Maximize labor efficiency
Achieve accurate snapshot of yard contents
Eliminate time-consuming searches
Improve decision-making
Manage multiple yards with ease
Avoid costly errors
Fill customer orders accurately, on time
Feature: Graphical Interface
Graphical Interface
Benefit:
Maximize labor efficiency
Achieve accurate snapshot of yard contents
Feature: Real-time location tracking
Real-time location tracking
Benefit:
Capture accurate equipment locations
Eliminate time-consuming searches
Feature: Dynamic appointment scheduling
Dynamic appointment scheduling
Benefit:
Adjust dock schedule quickly as needed
Feature: Real-time visibility
Real-time visibility
Benefit:
Improve decision-making
Maximize cross-docking opportunities
Achieve superior management control
Manage multiple yards with ease
Feature: Inventory Accuracy
Inventory Accuracy
Benefit:
Reduce shrinkage and spoilage
Avoid costly errors
Reduce backorders and stock-outs
Fill customer orders accurately, on time