Material Handling Tips & Info
---

In this issue:
Sorting with belt conveyors...picking from pallets...carton flow basics...warehouse process improvements...
---
Sorting with Belt Conveyors: A Guide
Belt conveyors are usually best where we must divert a package to a specific location in an exact time frame. Since there is less package slippage on a belted unit, timing can be more exact...
---
Ergonomics in the distribution center: picking from pallet hazards and solutions
Most goods in the warehouse are stored for a period of time. Racking is used to expand the amount of storage that is possible. Metal racks are used for storage and the area created within the racking is called a pick bin or slot. Slots range in size, depending on the products stored. The way that picking from stored pallets is executed can have a significant effect on ergonomics and productivity.
---
Carton Flow 101+: The case for flow storage in order picking operations
Order picking is the most labor-intensive operation in most warehouses. Consider the number of factors that go into order picking, and it's easy to see why. In many warehouses with hundreds-or hundreds of thousands-of SKU's, the order picking operation must be designed to deal with many factors. This animated presentation makes the case for carton flow in order picking operations.
---
CEI Logistics: Process Improvement for Warehouses, Distribution, and other Facilities
The way you do things is usually more important than the space or equipment you use. CEI Logistics offers a comprehensive source for companies who desire to improve their processes. Warehouse process improvement projects focus on specific areas of concern or challenges within an operation. The approach is the same as that employed on Strategic Planning projects but with a narrower scope. The objective is to design and implement tactical solutions that yield near term business results.
---
Cisco-Eagle Online Catalog Presents a full suite of Safety Cabinets and Containers
A fire can charge through a building in no time. Injuring people, destroying assets, threatening the very existence of your business. Simple proven steps can help reduce the risk of accidents, and in the area of fire prevention, the proper storage and disposition of flammable liquids, wastes, and cloths are at the forefront. Safety storage cabinets serve several critical functions: They safely contain hazardous chemicals to reduce the risk of fire, protecting both personnel and facilities; they identify, organize, and segregate dangerous liquids; they offer compliance with federal OSHA regulations and state and local fire codes; they improve efficiency by allowing solvent to be stored near the points of use, and they improve security with keyed locking mechanism. We have published a series of articles and made a full selection of safety cabinets, cans, and containers available.
---
Conveyor Spotlight: Model SBI and RBI Incline Conveyors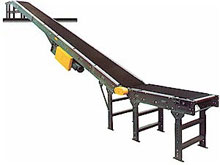 Hytrol's Model RBI and SBI are floor-to-floor incline and decline conveyors. Each is equipped with an adjustable double noseover on the upper end to ensure a smooth transition from the angle to the horizontal. Angles are easily adjusted up to 30º.