Material Handling Tips & Info
---

June 2005 Material Handling Tips & Information Newsletter
Getting the most from your conveyor system
Conveyors provide the solution to the most basic material handling concern: transporting products from point A to point B in the warehouse or distribution center. Choosing the best conveyor system for your application and making sure it delivers can get tricky. Here's how to select a system and maximize its uptime and flexibility...
---
When a pallet load application must be calculated, what questions should you ask? Two large questions are nearly the entire game: What kind of a pallet are you conveying, and what does the load weigh?...
---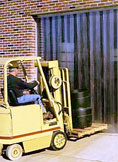 Strip Doors: A summertime money-saver in warehouses
It's sure getting hot out there, isn't it? Vinyl Strip Doors control the environment of a defined area--like part of your warehouse--by keeping cool air trapped and preventing dust or other airborne debris from spreading. As it starts to go from hot to real hot, consider installing doors in areas where access is frequent. They make it safer by making sure drivers and pedestrians can see each other...
---
Have a tight space? Need to store a lot in it?
One of the best ways I've seen to store large and small items together is with a Storage Wall system. Unlike conventional shelving, not an inch of space is wasted. It's high-density, high-organization, high-efficiency storage. Great for tool cribs, parts rooms, and similar areas where organization and density are so important.
---
A glossary of safety mat terms
Lots of good information here - one of the things I strongly recommend is finding places in an operation where people are standing, and then working to reduce the stress on their legs and backs. Mats are a great way to do that...