Material Handling Tips & Info
---

July 2005 Material Handling Tips & Information Newsletter
Totes might be the perfect container when conveying products. There are many benefits when conveying totes. They are consistent dimensionally and in weight, ergonomic, clean, and reduce the maintenance issues associated with corrugated dust. Here are the answers if you're looking at a tote conveyor application.
---
MHIA's AS/RS Product Section Releases First Industrial Carousel Safety Standard
The standard, (Safety Standard for Horizontal Carousel Material Handling and Associated Equipment), is the first standard ever covering this popular and rapidly expanding material handling technology market. Good reading if you have carousels in your facility.
---
Over-The-Conveyor Workstations
These workstations fit directly over your conveyor line, giving workers a real edge by providing exactly what's needed--be it dunnage, a computer, a workstation flat surface, rolls of wrapping materials, boxes, tools, parts--exactly where it's needed. Good stuff, if you need to work on product along a conveyor line.
---
Testing confirms Column Sentry protectors' impact resistance nearly double other brands
Do you have columns you want to protect from lift truck impacts? I see this a lot in warehouses and plants, and have always thought that column protectors were a good shield.
Column Sentry, a provider of Building Column guards, has completed product testing on its product versus the leading "knock-off" column protector product. The tests were conducted by Stork-Herron Testing Laboratories, an internationally recognized product testing company. They compared the ability of the Column Sentry®, and the leading look-alike column protector, to resist impact. The tests measured the amount of force necessary to compress a 4"x6" area of the outside skin of each product to the point where it met the inside wall, where the column is protected. The tests were done on identical 12"x12" square column protectors. The results showed that the Column Sentry® withstood the equivalent of 3,971 pounds of pressure, while the look-alike withstood 2,166. This is a resistance to impact of almost double. This is extremely important to note because this resistance is what protects the building column in a collision. This resistance is why the product works. If you've got building columns you want to protect, contact me, or visit our site.
---
Conveyor Spotlight: Hytrol ProLogix Sortation Control Package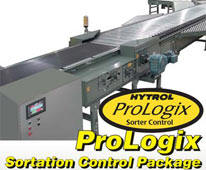 ProLogix's main purpose is to sort product to the correct sortation lane as well as to ensure consistent monitoring and optimal performance of the equipment. ProLogix is designed to provide consistent quality performance for all Hytrol sortation solutions