MHIA Recognizes Cisco-Eagle in 2005 Annual Content Awards
Conveyor resource center recognized as a top resource for material handling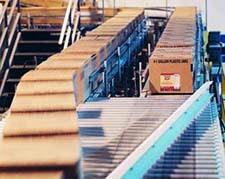 The Material Handling Industry of America recently released the list of winners for its 2005 annual content awards, and Cisco-Eagle's Conveyor Resources area was awarded second place in the competition.
A panel of academic judges and industry experts judged the entries.
The College Industry Council on Material Handling Education (CICMHE) and the Material Handling Industry of America (MHIA) created the awards to recognize excellent material handling-related content published in the last two years. Over 40 entries were received.
According to Mike Ogle, CICMHE Managing Director, "the group developed these awards to recognize companies that were clearly developing valuable educational content for the industry."
The group focused on the use of material handling in manufacturing, distribution, warehousing, and logistics, ranging from the application of individual technologies to the improvement of entire operations.
The winning entry
Cisco-Eagle's winning entry was a series of conveyor related articles and features designed to provide "how-to" information for its website visitors and customers. The resources page is always being expanded to include new, up-to-date information on conveyors and how to specify, operate, and maintain them safely and effectively. Much of the content is original, and some is republished with permission from other sites if it fits the needs of customers.
Criteria
Submissions were judged on the basis of their educational value to the practice of material handling, clarity of presentation and contribution to the advancement of the material handling industry.