Are You Loading Pallet Rack Beams Near to Rated Capacity?
Decking and pallet supports can impact beam level rack capacities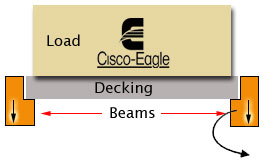 It's easy to understand the idea of pallet rack beam capacities. They're listed, mostly, in a per-pair style and common in the 5,000 pound range so that you can rack a couple of 2,500-lb. pallets on a 96″ span. That's probably the most common pallet storage setup in the world. But if you're not loading pallets correctly, you aren't getting your full capacity rating. This article on beam loading methods explains it in detail, but the basic story is that if your load does not fully overhang or rest on the tallest part of the beam, you aren't getting the full capacity because you're not using all the steel and your load isn't setting flush in the horizontal space.
Loads that rest on decking or pallet support put more pressure on the thinnest vertical section of the beam, in the 'step'. This can diminish beam capacities. I'm not saying you can't load racks this way (people do it all the time) but that you need to check out the capacity of the beams when they're loaded on the step, not the full beam.
Read the article. It tells the story better.
Tags: Material Handling, Pallet Rack, Safety & Ergonomics, warehousing
---
Scott Stone is Cisco-Eagle's Vice President of Marketing with more than thirty years of experience in material handling, warehousing and industrial operations. His work is published in multiple industry journals an websites on a variety of warehousing topics. He writes about automation, warehousing, safety, manufacturing and other areas of concern for industrial operations and those who operate them.
What can we help you with?