The Forest for the Trees – Does Your Operation Need a Review?
Issues you cope with on a daily basis can become productivity handcuffs over time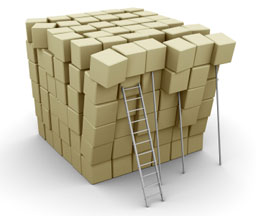 Warehousing is tough. Manufacturing is tough. Order fulfillment is tougher; the longer the operation runs the more difficult it can get.
You deal with constant disruptions , and the system you carefully designed a few years ago may not be working as well today, after changes in your business climate, personnel changes, SKU alterations, new lines, changing storage requirements, corporate policy changes, or issues with key suppliers or customers. These things happen, and at some point, all or most of them will occur in every operation. If a series of small changes have added up to big headaches, what can you do?
That's when it's time to take a look beyond the desktop, beyond the day-to-day, and try to see the operation from a higher level. Things you cope with on a daily basis (and can handle) can become productivity handcuffs over time – and since we're all mired in the daily business of getting things done, we may not even notice, or understand that these things are adding up to become significant liabilities that multiply over time.
Some things to consider:
Does it take too long to get an order out the door? Do you have a benchmark to measure today's cycle time vs. last year's?
Do peak times cripple you? Does the operation have enough oomph to handle growth and business spikes?
If you're operating a conveyor system, does it become a jammed mass at peak times? Are there ways you could spread that volume out?
Are you losing customers because you simply can't fill orders fast enough to meet demand?
Look at the number of back orders. Are they increasing over time? Do any significant number of them represent things you have in stock, but just couldn't get shipped (back orders due to throughput)?
Are you shipping orders correctly more or less often than you did a few years ago?
Are there band-aids in your fulfillment process that are constant issues, that you must deal with, but haven't had the time to? Perhaps these are even good solutions, but since they aren't integrated with the rest of the operation, they're a drag on productivity…
Are your shippers complaining?
Do you come home always feeling like you could have done more, with more time, more people, more space, more this, or more that? While that may be the case for many people at times, you shouldn't always feel that way. What's causing it? What could you change that would save an hour a day? Shave minutes off of processes?
Can you honestly say things are organized? Are aisles cluttered too often? Is there too much temporary storage activity?
The key thing is to find those areas where you can make gains overhauling your entire handling system, and execute within them. If your analysis leads you to a warehouse redesign, then listing the issues you're having is a good place to start.
Tags: Material Handling, order fulfillment, productivity, warehousing
---
Scott Stone is Cisco-Eagle's Vice President of Marketing with more than thirty years of experience in material handling, warehousing and industrial operations. His work is published in multiple industry journals an websites on a variety of warehousing topics. He writes about automation, warehousing, safety, manufacturing and other areas of concern for industrial operations and those who operate them.
What can we help you with?