OSHA releases Forklift eTool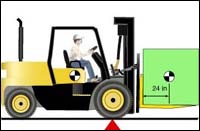 OSHA has released an eTool (which is basically just an informational web page) for powered lift trucks that you might find useful. It has drill-down information on the following categories:
Basic  Types and Fundamentals – The differing types and fundamentals of powered trucks
Operating the Forklift – the basic operating rules and safe work practices
Understanding the Workplace – how workplace conditions can affect safe operation
Training Assistance – operator training required by OSHA
This information specifically addresses OSHA's Powered Industrial Truck requirements [29 CFR 1910.178]
Tags: forklifts, industrial safety, lift trucks, Pallet Rack, warehousing
---
Scott Stone is Cisco-Eagle's Marketing Director with three decades of experience in material handling, warehousing and industrial operations. He writes on automation, warehousing, safety, manufacturing and other areas of concern for industrial operations.
What can we help you with?