Cisco-Eagle to present at North Texas WERCouncil End of Year "Celebration and Education"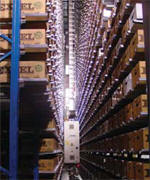 If you're in the North Texas area or can easily make the trip, I highly recommend that you attend the North Texas Warehousing Education and Resource Council  "Celebration and Education" seminar on December 10, 2008 in Dallas at the Marriott DFW Airport North.  It's an excellent day of networking, education and fun. Cisco-Eagle's Donald Prater is presenting at this session, on the topic "Cargill Excel Beef Case Study – Taking Order Fulfillment to the Next Level." Donald has implemented multiple facilities for Excel over the years and has keen insights on how to best improve the operations at these kinds of fast-paced, complex operations that you can apply to an operation of almost any kind.
The conference costs $30.
See  our case study on Excel's innovative order fulfillment project.
The North Texas WERC council has always provided an excellent educational platform for people in our world of warehousing, order fulfillment, distribution, and manufacturing. You can register for the "Cerebration and Education" seminar here.
Attendees will:
Gain knowledge on best practices from Receiving through Shipping, including Product Slotting
Discover how to identify the right material handling/storage equipment and develop the best facility layout
See how to cut labor costs with VOICE, PTL and RF technologies
Learn how to use your WMS to reduce inventory and labor costs
Discover how to apply automation and order fulfillment technologies to increase throughput and cut costs
Filled with case studies and benchmarking information, you can't miss this seminar!
HAVE FUN networking with co-workers and friends
Have an excellent dinner, drinks and raffle
---
Scott Stone is Cisco-Eagle's Marketing Director with three decades of experience in material handling, warehousing and industrial operations. He writes on automation, warehousing, safety, manufacturing and other areas of concern for industrial operations.
What can we help you with?