Optimizing Your Distribution or Manufacturing Operation During Slow Economic Times
Take on projects during the slow times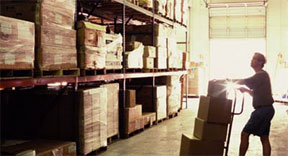 It isn't news that the U.S. has been in a recession for most of the last year. It also isn't news that you can utilize certain equipment and process improvements to upgrade at lower costs, and even return your investment more quickly in an environment like this one. Here are some ideas.
Companies typically upgrade their warehousing and manufacturing operations to accommodate growth, and right now, few industries are growing. It's understandable that things work this way, since the pain of an outmoded or inefficient operation becomes sharper as higher volumes of orders are streaming in, when the picking operation is maxed out, or when the docks are constantly slammed with outgoing shipments. When it's slower, the problems are less of an issue.
When orders are flat, when your operation runs at partial capacity, when things are slow, what can you do to improve your operation that is affordable, sensible, adds value, and returns your investment quickly?
Take on operational projects you can't execute when things are busier. It's the same philosophy as shutting the plant down for upgrades during the holidays or directly thereafter, if the holidays are a busy season. If you can't usually shut down to re-slot your inventory, install new equipment, or to reorganize your layout for better performance due to volume, this might be a good time to execute a project you could not normally take on.
During a lull, you could take care of more in-depth conveyor maintenance, upgrading equipment, inspecting racks & storage equipment for damage (and replacing components as needed), or installing tweaks that make things more efficient, safer, and faster.
Focus on projects that can save money or increase productivity in the short term. With large capital projects, ROI can be a year or longer. Some projects take months to implement, and then more months to start to pay off. This may not be the time for those kinds of projects, but less intrusive, time-intensive improvements are ideal.
If you can cash-flow a project, and it reduces costs immediately, it makes sense in a recessionary environment — particularly in a recessionary environment — to pursue it. Smaller projects that speed shipping, reduce errors, or slash labor costs as soon as they are completed are winners, even in a tough business climate.
In the warehousing world, it might not make sense to embark on long term WMS systems, larger sortation projects, new software integration, or ASRS. However, improved order picking equipment like smaller conveyor projects, highly-organized packing stations, or flow racks that quickly improve productivity and deliver immediate financial impact make perfect sense.
Beef up security. It's been proven in multiple studies that secure operations are typically more efficient. Besides the obvious benefits of an operation that is more resistant to pilferage and product damage, thinking about security helps you think about the way things are stored, handled, picked or restocked. This can drive improvements, even without new capital investment.
Items like security cages that segment high-value inventory and enforce access to it are often money-savers from the word go. Also consider secured shelving, rack security cages, and other equipment that makes your storage more organized and secure.
As commodity prices fall, so do equipment prices. This may be the time to take advantage. You may get some excellent deals today compared to the past few years. With fuel and steel prices stabilizing, and in some cases even decreasing, it's a good time to be in the market for heavy racking, shelving, or conveyor systems.
Steel surcharges (a fact of life in recent years) have largely vanished. If you can swing it, you may not find better prices for capital projects than you can find right now.
Take advantage of upcoming economic incentives. The federal government is acting as governments usually do during recessions by pouring money into the market in the form of incentives, new spending on infrastructure, and tax code assistance.
Final thoughts
The incoming administration has proposed business tax incentives, which may come into play the first half of 2009. According to the White House website, "Obama and Biden will create an Advanced Manufacturing Fund to identify and invest in the most compelling advanced manufacturing strategies." This adds up to incentives that may help you cut costs for new equipment and processes that can optimize your business. Also, the government intends to double funding to the manufacturing extension partnership, which works with manufacturers across the country to improve efficiency, implement new technology and strengthen company growth.
Additionally, the new Administration plans to raise the small business investment expensing limit to $250,000 through the end of 2009. Many companies will be able to find parts of the plan that can significantly reduce the cost of new, capital investment in material handling, new machinery, or other facility and operational improvements.

Tags: Manufacturing, Material Handling, warehouse technology
---
Scott Stone is Cisco-Eagle's Vice President of Marketing with more than thirty years of experience in material handling, warehousing and industrial operations. His work is published in multiple industry journals an websites on a variety of warehousing topics. He writes about automation, warehousing, safety, manufacturing and other areas of concern for industrial operations and those who operate them.
What can we help you with?