Ergonomic Considerations for Designing Conveyor Workstations
Reduce the risks of musculoskeletal injury in tasks or procedures that involve manual handling
Designing your conveyors and workstations to work together gives you significant safety and efficiency advantages. Using conveyors is a good way to reduce the risks of musculoskeletal injury in tasks or procedures that involve manual handling because conveyors reduce the need for repetitive lifting and carrying, but implementing conveyor into workstations requires some basic understanding of how to prevent stress. As a bonus, well-implemented conveyor workstations also boost productivity.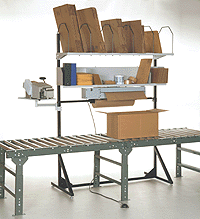 The design of conveyor systems can produce negative postures if the belt or rollers are positioned too low or too high for the operator. If the conveyor is too wide, the operator has to reach excessively to pick objects from the belt. If there isn't adequate clearance for feet at floor level, the operator may have to lean forward to work.
We have published a guide to avoiding injuries and keeping your conveyor operations optimized. Check it out.
I also suggest you look at some ways to integrate "formalize" work done at conveyor level with "over-conveyor" workstations that help you more effectively do certain tasks, such as manifesting, shipping, assembly, and testing.
There are more tips on optimizing the effectiveness and safety of your conveyor in our downloadable (PDF) guide to optimizing conveyors.
Also, for some excellent ergonomics advice for industrial, warehousing, and manufacturing operations, check out (yet another PDF) "15 ways Material Handling can make your operation safer."

Tags: Conveyor, ergonomics, industrial safety, Material Handling, warehousing, workstations
---
Scott Stone is Cisco-Eagle's Marketing Director with three decades of experience in material handling, warehousing and industrial operations. He writes on automation, warehousing, safety, manufacturing and other areas of concern for industrial operations.
What can we help you with?