The Plight of the Warehouse Manager
How to take the pressure off in a fast-paced world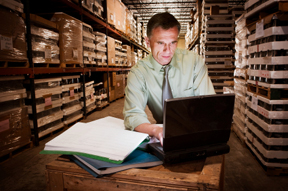 With the advent of widespread e-commerce same-day fulfillment, just-in-time principles, lean management, supply chain collaboration, globalization, the need for ever-faster response, and constant pressure to reduce expenses through headcount and shift reductions, today's warehouse manager is being asked to do more than ever before.
According to the book World-Class Warehousing and Material Handling, by Edward Frazelle, Warehouse managers are between a rock and a hard place in today's hyper-competitive, get-it-now economy. They're expected to deliver much more, with much less than a in previous years.
The demands
Execute more, smaller transactions (transactions, or "touches" often needlessly bog entire operations down)
Handle and store more items (usually in the same space)
Provide more product and service customization
Offer more value-added services
Process more returns (see the Ultimate Returns Center)
Receive & ship more international orders
The environment
At the same time, warehouse managers are forced to deal with less order processing time, less margin for error, less-skilled, younger, and often non-English speaking personnel, and less WMS capability.  Couple that with today's cost-cutting mentality and Frazelle's point is reinforced.  "Never," points out Frazelle, "has the warehouse manager been asked to do so much and at the same time been so strapped for resources." Warehousing is about 2% to 3% of overall product costs, but seems to constantly be the target for cost cuts. Doing more with less is always a goal – but to a point, you can only transition so far in that direction on limited resources.
How do warehouse and DC managers cope in today's tough environment? How do you deal with it? (feel free to comment).

Tags: distribution centers, supply chain operations, Warehouse Management
---
Scott Stone is Cisco-Eagle's Vice President of Marketing with more than thirty years of experience in material handling, warehousing and industrial operations. His work is published in multiple industry journals an websites on a variety of warehousing topics. He writes about automation, warehousing, safety, manufacturing and other areas of concern for industrial operations and those who operate them.
What can we help you with?