Steel (and Material Handling) Prices might be on the Move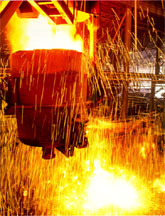 Although most metal markets are still depressed from their all time highs of the last few years, it's quite likely that steel pricing is going to increase in the near term. What's that mean? It means that pricing for steel goods like warehouse racks, conveyors, shelving, mezzanines, and other material handling equipment will be on the rise.
"We are clearly going to see higher prices for May," said Marty Forman, president of Forman Metal Co.  in the Milwaukee Journal Sentinel. "Things aren't going to explode, by any means, but the scuttlebutt is that steel prices are going up $15 to $20 a ton."
The takeaway? Prices are as low as they will be for the near future right now.
This means now is a good time to buy.  Prices have been falling steadily for steel (and thus, steel-based equipment) over the last year. That won't hold, and will probably reverse. As we monitor our pricing and that of competitors, we're seeing good deals that may not be there in a few months as steel prices climb.
ALSO: Tax incentives are in your favor
According to Steel King's Donald Heemstra, another reason for customers to purchase now is to take advantage of accelerated depreciation.  As part of The American Recovery and Reinvestment Act signed by President Obama on February 17, 2009, the IRS increased the investment limit that a company can claim under Section 179 to $250,000 during tax year 2009. That means that 100% of a qualifying equipment investments – up to a quarter million dollars – can be purchased and expensed in 2009.
You can use this option to leverage accelerated depreciation as a means to lower your 2009 tax year bill.  For example: if $100,000 of Section 179 eligible business equipment is purchased and placed into service during the current tax year, the full amount could be expensed immediately, lowering the company's tax liability by about $33,000 ($100,000 times a 33% tax rate). If no accelerated depreciation were available, the equipment would likely be depreciated on a five year schedule, with only one-fifth ($20,000) expensed yearly.
You should discuss specific eligibility and tax liability with a tax professional as you pursue this depreciation.
Tags: Conveyor, Material Handling, pallet racks, steel prices
---
Scott Stone is Cisco-Eagle's Vice President of Marketing with more than thirty years of experience in material handling, warehousing and industrial operations. His work is published in multiple industry journals an websites on a variety of warehousing topics. He writes about automation, warehousing, safety, manufacturing and other areas of concern for industrial operations and those who operate them.
What can we help you with?