1,149,120 Hytrol Model TA Belt Conveyor Combinations
We have a world of combinations for every need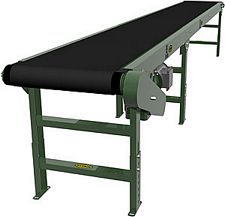 Over the last few months, we have been tweaking the conveyors offered on our website to offer a variety of options in a usable, easy-to-understand format. What we came up with is an online configuration system that allows great flexibility in changing the conveyor the way you want to change it.
For instance, Hytrol Model TA Slider Bed Conveyors are available in over 1.1 million configurations. Take any single model – say this one – which is a basic 14″ overall width, 16′ long belt conveyor, and you can configure it hundreds of different ways, from belt type to support heights to motors and guardrail (that doesn't count speed settings, which would pump that count up to 17 million).
Of course, we also believe in old-fashioned customer service, which is why we are always available through our toll-free line, chat function and email service. We can help you specify precisely the right conveyor for your needs.

Tags: Conveyor, conveyor belt, Material Handling, warehousing
---
Scott Stone is Cisco-Eagle's Vice President of Marketing with more than thirty years of experience in material handling, warehousing and industrial operations. His work is published in multiple industry journals an websites on a variety of warehousing topics. He writes about automation, warehousing, safety, manufacturing and other areas of concern for industrial operations and those who operate them.
What can we help you with?