E24 Power Roller 24-volt Conveyor: Transfers & Merges
Flexible, powerful system allows you to do things standard rollers can't
E24 Powered Roller Conveyor from Hytrol has become very popular with conveyor users due to its advantages over conventional conveyor and motorized rollers.  This quiet, energy-efficient conveyor fits the green mode that many operations are following, and can deliver exceptional flexibility, superb heat dissipation, and a robustness that cannot be achieved with motors embedded in conveyor rollers.

Below are two examples of  creative application of E24 technology…
Parallel Line Transfer using E24 Conveyor
In this application, two E24 parallel lines, a BR Type Transfer and a 2-roller E24 Transition Kit were combined  to transfer product from one conveyor to the next. This design eliminated the need and cost of a conveyor-to-conveyor transfer between the two lines.  This coupled with the better ROI of the E24 system made this choice of conveyor very easy for the customer to justify.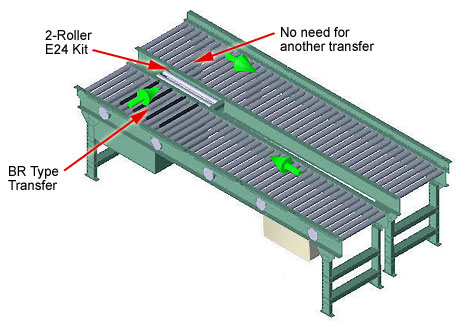 90 Degree Merge Without Using Transfers
This application transfers loads from lanes of  E24EZ, perpendicular to the main line of E24EZ. Normally you'd need 3 transfers to accomplish this, but this design eliminated that cost – and that complexity. Since the speed of the E24 motors is independently adjustable, the load is traveling lane at 50 FPM until it reaches the end zone where the speed is increased to 80 FPM.  The 3 perpendicular lanes are set approximately 1/2″ higher than the main line to help make the transition.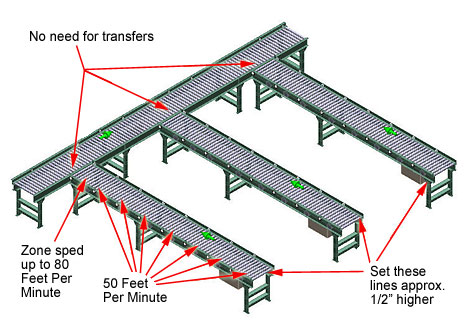 These are just a couple of the ways that 24-volt conveyor rollers can allow you to do things that aren't feasible with conventional rollers.


Tags: Conveyor, Hytrol, Roller Conveyors, systems, transfer, warehousing
---
Scott Stone is Cisco-Eagle's Vice President of Marketing with more than thirty years of experience in material handling, warehousing and industrial operations. His work is published in multiple industry journals an websites on a variety of warehousing topics. He writes about automation, warehousing, safety, manufacturing and other areas of concern for industrial operations and those who operate them.
What can we help you with?