How Much Difference do Fully-Enclosed Pallet Rack Frames Make?
The cost of safer, more stable rack uprights is easily justified when you see how frequently rack gets abused in a typical warehouse
How much difference can a fully enclosed pallet rack upright make? When it comes to the kind of significant injuries, product damage, and overall safety of a warehouse or commercial facility, the minor cost differences are insignificant compared to the potential savings if you prevent just one accident over the next decade. Imagine suffering an accident like this one.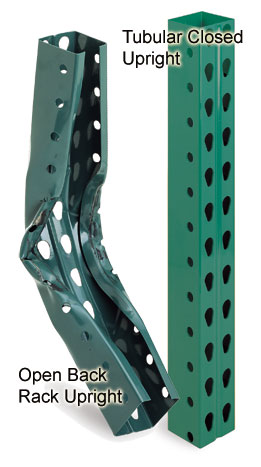 This video showcases 750 pounds dropped on both a conventional open-back and fully tubular pallet rack frame. Compared to the impact of even a slow-moving lift truck, that's not an extreme amount of weight. While no rack can be guaranteed to prevent a collapse in the event of an impact, fully enclosed racks are simply more resistant. Always train your drivers to avoid collisions, always utilize post protectors, frame guards, guard rails and other safety equipment.
But don't forget the fundamental thing: the quality of the upright itself.
SK2000 is the industry's only 100% tubular rack, with 4 times more resistance to torsional forklift impact than open-back roll formed columns. It utilizes a tapered keyhole connection slot, interchangeable with several other rack systems, and allows 2″ vertical beam adjustments.
High-strength closed tubular design has 250% more frontal impact strength than a comparable open back column
Welds between braces and column are full fillet welds, providing more strength than spot-welds on other rack systems
Heavy 10-gauge footpads are flush with the column's sides, allowing for full seating of floor level load beams (seismic rated footpads are also available)
Also see these documents for technical information on SK2000 uprights:

Tags: Pallet Rack, racking, warehouse rack
---
Scott Stone is Cisco-Eagle's Vice President of Marketing with more than thirty years of experience in material handling, warehousing and industrial operations. His work is published in multiple industry journals an websites on a variety of warehousing topics. He writes about automation, warehousing, safety, manufacturing and other areas of concern for industrial operations and those who operate them.
What can we help you with?