"Undercover Boss" Underlines the Difficulties of Large Scale Distribution
Pickers can walk up to nine miles per shift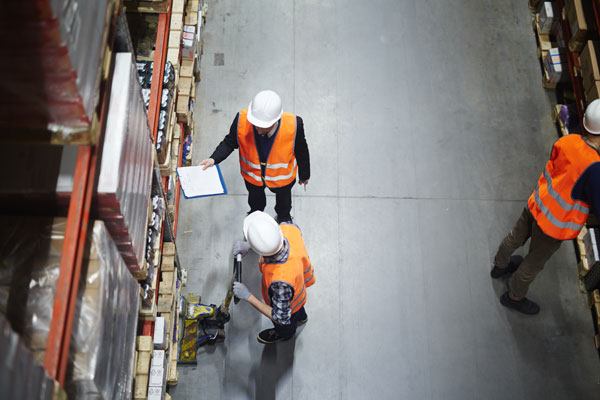 Tonight's Undercover Boss on CBS featured GSI Commerce CEO Michael G. Rubin, and as my wife and I were watching it, the loading, order picking and packing segment brought home the difficulties of these operations. It's a somewhat rare mainstream glimpse into large scale distribution operations.
Walking around is stressful
The order picking segment from GSI's Lexington, Kentucky distribution center in particular stressed the disadvantages associated with walking in order picking operations. Armed with RF guns, the pickers tow order picking shelf carts between picking aisles. They leave the carts in a center aisle and move down rack aisles where inventory is stored in bins.
The order picker in the CBS segment said he walked 9 to 10 miles every shift. The average walking speed is 3.1 miles per hour, but we can assume that order pickers are capable of faster – say 4 mph when they aren't pulling heavy carts around. The GSI operation had aisles of rack supported mezzanines. Rubin could pick orders at half the speed of the employee who was teaching him the job. But if both guys were spending a significant percentage of the day walking to bins, both – and presumably many others – are spending more time walking, walking, walking.
Walking absorbs hours. Walking should be minimized in distribution operations.
Walking around can cause mistakes
Walking is inevitable in most operations, but for those that can eliminate it, or reduce heavy doses of walking, there is a significant payoff. First, you'll pick orders faster. Secondly, you'll pick them better. After all, fatigue breeds errors. GSI might be able to implement conveyors to replace the carts and bins in some areas, or flow storage and conveying lines in others. It might be able to put faster movers into carousels or automated retrieval systems. None of this presumes any knowledge of the company's operations, but all of it is possible if a company has many order pickers moving 10-plus miles a day to pick orders.
If your operation features significant walking, and you can reduce that by process or reconfiguration, it's almost always worth the effort.

Tags: Order Picking & Fulfillment, warehousing
---
Scott Stone is Cisco-Eagle's Vice President of Marketing with more than thirty years of experience in material handling, warehousing and industrial operations. His work is published in multiple industry journals an websites on a variety of warehousing topics. He writes about automation, warehousing, safety, manufacturing and other areas of concern for industrial operations and those who operate them.
What can we help you with?