Nashville Wire Names Cisco-Eagle to Top 10 Dealers
Award denotes exceptional performance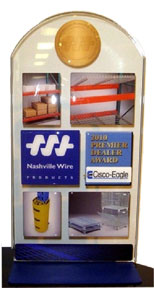 Nashville Wire, a manufacturer of wire pallet rack decking, folding wire containers, rivet shelving deck, and more has named Cisco-Eagle to its list of top 10 distributors for 2010.
"We pride ourselves on our product quality, our service, and our integrity," said a letter from the company. These values have guided us through the years and helped us form relationships with companies such as Cisco-Eagle that brought us to where we are today. We value this relationship and do not take it for granted."
Cisco-Eagle appreciates the recognition, as we consider Nashville Wire to be a quality partner with excellent products for our clients.
Pictured is the plaque that was sent accompanying the notice.

---
Scott Stone is Cisco-Eagle's Vice President of Marketing with more than thirty years of experience in material handling, warehousing and industrial operations. His work is published in multiple industry journals an websites on a variety of warehousing topics. He writes about automation, warehousing, safety, manufacturing and other areas of concern for industrial operations and those who operate them.
What can we help you with?