Use Propane in your Forklift? Tax Credits are Running Out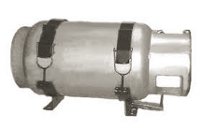 A federal tax credit that could allow forklift users to recoup 50 cents of every gallon of propane purchased runs out August 1, 2011. If you run forklifts on propane, it's nearly a no-brainer that your company should apply for this credit. To get in, you must have submitted your paperwork by the first of August. The credit is part of the Tax Relief, Unemployment Insurance Authorization, and Job Creation Act of 2010.  Propane is part of the alternative fuels classification, which also includes natural gas, bio-diesel, and ethanol.
After the deadline, the tax credit reverts to 30%. As always, see your tax professionals before undertaking any decisions based on this information.
---
Scott Stone is Cisco-Eagle's Vice President of Marketing with more than thirty years of experience in material handling, warehousing and industrial operations. His work is published in multiple industry journals an websites on a variety of warehousing topics. He writes about automation, warehousing, safety, manufacturing and other areas of concern for industrial operations and those who operate them.
What can we help you with?