Small Manufacturers' Coalition: Keys to Success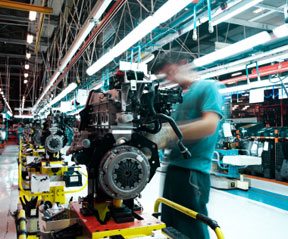 The American Small Manufacturers Coalition (ASMC) released their Next Generation Manufacturing Study in 2011, identifying key trends affecting the industry and steps U.S. manufacturers can take now to be successful in the next generation. Some of the findings are fairly predictable, while others may surprise you. In particular, you have to consider people at all levels. Are your key players likely to retire or take other positions over the next decade or so? How can you prevent that? What can you do to further develop them?
Solidify your next generation of leadership. 60% of manufacturers will have new leadership over the next half-decade. This means that you'll be competing for talent, and will need to focus on hiring, developing, and maintaining it over time. As always, leadership is critical to success, but with the turnover you'll be facing, thinking about this now will pay off in the future.
Think Sustainability. It's important to regulators (of course), but also to your customer base. Younger, more sustainability minded people will be filling roles across the buying and supply chain spectrum. 59.2% of manufacturers believe that sustainability is key to their future – and they are right. It reduces costs and forces efficiency. Devise ways you can operate more efficiently as well as manufacture your product in a more sustainable manner.
Get ready to re-tool. The study says that most manufacturers have adequate equipment, facilities, and tooling to support current operations, but that only 18% of manufacturers have "state of the art" equipment required for "world class innovation." Just 14% have the necessary equipment to support "world class process improvements."
Develop and retain your workforce. Chances are that your skilled workforce is aging, and the pool of skilled replacement is thin. Small manufacturers, who often rely on people to know and do more, should implement programs that help them plug the skills gap as they move into the next half-decade. Retention is as important as development in this environment, so don't neglect that piece.
In essence, the study tells us that we are in the midst of rapidly changing times, and that 2011 is the start of a critical swing for manufacturing. If your operation is to thrive over the next decade, you should be planning for improvements in labor force, business systems, equipment, and strategies to compete in an increasingly globalized, increasingly regulated environment. Best practices that help you optimize today's operation while moving ahead into the next phase are critical.
Tags: lean manufacturing, Manufacturing, strategy
---
Scott Stone is Cisco-Eagle's Vice President of Marketing with more than thirty years of experience in material handling, warehousing and industrial operations. His work is published in multiple industry journals an websites on a variety of warehousing topics. He writes about automation, warehousing, safety, manufacturing and other areas of concern for industrial operations and those who operate them.
What can we help you with?