AisleCop® a Finalist for MHI 2014 Innovation Awards
The system helps manage dangerous intersections in warehouses, factories, and other places where forklifts and people mingle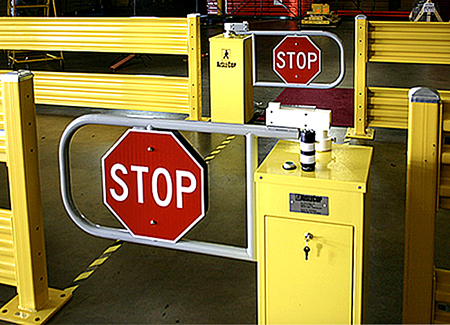 The Material Handling Industry of America (MHI) has named Cisco-Eagle's AisleCop® Automated Forklift Safety System a finalist for the 2014 Innovation Award, Best New Innovation Category. Judging, and the final awards, happens at Modex 2014 in Atlanta, Georgia.
What are the innovation awards?
The innovation award serves to educate and provide valuable insights on the latest manufacturing and supply chain innovative products and services to MODEX attendees. This award will be given to exhibitors in 2 categories: Best New Innovation and Best Innovation of an Existing Product. Winners will be recognized at the show.
Innovation Statement:
Intersection safety management "within" facilities can now be automated in high traffic areas.
The AisleCop® Pedestrian Gate System helps protect pedestrians through motion-detection and traffic control of dangerous aisles. Its gates (typically facing each other) help limit pedestrian access to aisles when a forklift or other industrial equipment is present. The gates open and allow pedestrians to cross only after traffic has cleared. To enhance pedestrian safety, flashing lights and an audible alarm are triggered each time the system is activated. For typical applications, such as crossing an aisle, controls and sensors are standard, but custom control and sensor configurations are available upon request for more demanding or tricky situations.
Like many good products, AisleCop® started with a customer's problem: pedestrians at certain crossings weren't safe, and a solution to help manage those areas was needed. The system was developed for that application, and grew from there; it can now be found nationwide in industries ranging from cosmetics manufacturing to food processing to general warehousing to automotive manufacturing and paper processing facilities.

Tags: forklift safety, MHIA, Modex
---
Scott Stone is Cisco-Eagle's Vice President of Marketing with more than thirty years of experience in material handling, warehousing and industrial operations. His work is published in multiple industry journals an websites on a variety of warehousing topics. He writes about automation, warehousing, safety, manufacturing and other areas of concern for industrial operations and those who operate them.
What can we help you with?