Cisco-Eagle's 2013-2014 Employee-Owner of the Year is Tammy Barnes
"She's the most dedicated person I've ever worked with"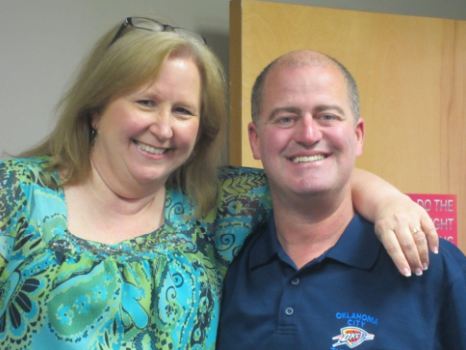 Above: Tammy Barnes, Employee-Owner of the Year, and Cisco-Eagle President Darein Gandall.
Tammy Barnes has been named our 2013-2014 Employee-Owner of the Year.
The annual award is presented by the company's ESOP Advisory Committee. It recognizes an employee-owner who has gone beyond what is expected to promote and support the ownership culture at Cisco-Eagle. This award is distinct because it is awarded directly by a committee of  employees rather than senior management.
Tammy, the company's Controller, has worked at Cisco-Eagle since January 1, 1981. This was her first job out of college and she started as the receptionist and is now the Controller of the company. Her many jobs include payroll, group health insurance, 401k, other HR functions, commission processing, government reporting, general accounting, plus much more.
Our most dedicated employee-owner
"Tammy has always been the most Cisco-Eagle oriented employee I have every associated with," said sales associate Lisa Spry. "She is a stickler for details and makes sure that we salespeople get all of our costs correct. There are no shortcuts on jobs with her. Tammy has always been willing to work whatever hours it takes to get the job done. Dealing with insurance every year is enough to warrant Employee of the Year!"
Vice president Bill Cupps added that "when people need to know how to do something, they go to Tammy."
Tammy has been married to David for almost 34 years. They have a son, Brad, who gave Tammy a daughter (Michelle) last summer when he got married. Tammy says that she considers her biggest accomplishment is having raised a precious little boy into a man that she can be proud of. She is the grandparent to three dogs, one of which lives with her.
About our ESOP ownership
Cisco-Eagle provides exceptional service by employee-owners. We believe that no one provides better service than an owner, and based on our customer service ratings, it appears our customers would agree. Our employees are all shareholders. We have been employee-owned since 2000. For more information about our ownership culture, visit our ESOP page. 
Tags: Employee ownership, ESOP
---
Scott Stone is Cisco-Eagle's Vice President of Marketing with more than thirty years of experience in material handling, warehousing and industrial operations. His work is published in multiple industry journals an websites on a variety of warehousing topics. He writes about automation, warehousing, safety, manufacturing and other areas of concern for industrial operations and those who operate them.
What can we help you with?