2014 Manufacturing Trends: Cisco-Eagle Interviews with Leading Manufacturers
Key Trends for 2014 and beyond for manufacturers, distributors, and other industrial operations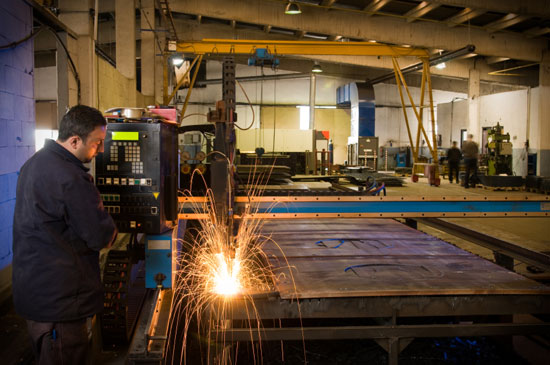 As we've written about previously, Cisco-Eagle took part in last month's supply chain expo Modex, held in Atlanta, GA.  When we weren't demonstrating our automated forklift safety system and talking to customers, we snuck away from our booth to connect with some of the industry's leading innovators.
As a follow-up to our safety trends discussion, we were interested in hearing from manufacturers what other key trends are shaping the industry in 2014.
The following represents a list of hot topics at Modex and trends to watch for this year and beyond:
Omni-Channel Distribution
Boyce Bonham, Director of Integrated Systems and Controls, Hytrol

Boyce Bonham currently serves as the Director of Integrated Systems and Controls for Hytrol Conveyor Co., Inc. In his role, he is responsible for systems development and integration, as well as new product initiatives. Boyce brings over 27 years of material handling experience to the industry.
J. Mitch Johnson, Director of Systems Development, Hytrol

Mitch Johnson is the Director of Systems Development with responsibility for new business development within the material handling industry. With a background in sales and engineering, Mitch brings extensive knowledge to the industry.
"[One of the biggest trends we're seeing is that companies are] optimizing omni-channel distribution.  People in each of the big stores are starting to put out orders that are not only smaller but arranged the right way to be put away in the store.  For example, all of the cleaning supplies need to be on this level of the pallet so that when they drop it to store, they go in first.  So, we're having to build pallets that way.  Also, you always want to put the handles on the bottom and the feathers on the top, so there's a lot of people that are paying attention to things like that."
Technology
Jason Wilder, Director of Marketing, SixAxis

Jason Wilder is currently the Director of Marketing at SixAxis.  In previous roles, Jason has worked for Wilder Creative, Ogilvy & Mather, Stein Rogan + Partners, Harris Drury Cohen, and Ackerly Communications.
"People are really looking to harness the digital aspect of things.  Smartphones and tablets are starting to come out in the business, in the industrial sector.  So what we're seeing is people are looking for other alternatives, other than CRM's on the front end of a business.
We're a manufacturer.  We own ErectaStep, SafeRack, and a bunch of safety products and we understand that there has to be a better way to sell these complicated products.  So we've developed the world's first sales resource planning tool (SRP).  It's not just a CRM tool or a configurator, but [we call it] a 'CRM interface' that allows real-time data to be input and pushed up to upper management for real forecasting to be done.
Digitization, mobility, the addition of sensors and algorithms, these core things are exactly what the product is built around.  With smartphones, tablets, all this new technology coming into the fold, it's informing how business gets done in the future."
Insourcing
Steve Hankey, Regional Sales Manager, Interroll

Steve Hankey is a Regional Sales Manager at Interroll with responsibility for business development and key account management in the Midwest focusing on the material handling market in conveyors, sorters, and pallet and carton flow applications.
"In the U.S., as it's been reported in the various trades, companies have gotten much more agile and much quicker.  The unit cost has started to come down in the U.S. and therefore on-shoring is more important to us.
On the flip side of that, we've gotten more efficient, but fuel costs will continue to increase.  So the freight costs can be the difference between winning and losing an order; in some industries in particular where the equipment is very large and bulkier, there's just a lot to ship."
Productivity
Jeff McNeil, Marketing Manager, Gorbel

Jeff McNeil is a Marketing Manager at Gorbel, where he previously worked as Regional Sales Manager.
"Most of the time we're talking to customers about productivity. Customers are trying to squeeze more and more efficiency out of their operations and that includes things that you've heard about (Lean manufacturing, process change, etc.).  They're trying to be more flexible in how they produce, all aimed at being more productive and more efficient in our product.  This isn't necessarily new but it's something we continue to see our customers focus on."
Education
Kelly Kubisiak, Marketing Manager, Steel King

Kelly Kubisiak serves as Marketing Manager for Steel King, where she is responsible for the development and execution of business-to-business marketing strategies, plans and projects in support of the corporation's plans for revenue, profit and market share.
"Education a key component to selling these days. We get a lot of requests from our dealers for informational papers that either address questions they receive from their customers or that help explain codes or regulations their customers may or may not know about. Education is playing an important role in the way they are selling. This seems to be addressed here at Modex as there are plenty of seminars covering a wide array of topics to attend."
Sincere thanks to all of the manufacturers we spoke to for providing insight on everything from industry trends to safety in the workplace to the future of manufacturing.  We appreciate it!
---
Scott Stone is Cisco-Eagle's Vice President of Marketing with more than thirty years of experience in material handling, warehousing and industrial operations. His work is published in multiple industry journals an websites on a variety of warehousing topics. He writes about automation, warehousing, safety, manufacturing and other areas of concern for industrial operations and those who operate them.
What can we help you with?