Post-Modex Report: What's the Buzz in Manufacturing Technology?
Technological advances that can reduce labor costs, address skills gaps, and connect digital data to real-world manufacturing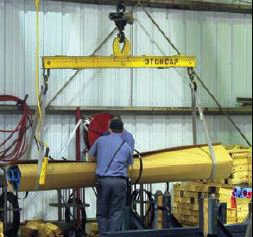 This year, technology innovation is propelling the manufacturing industry to unprecedented levels. Emerging technologies, in combination with advancements in automation, distribution, and talent development, are likely to produce major changes in the way many things are made in the years to come.
So what's hot in manufacturing technology? We addressed this question (and many more) during the supply chain expo Modex, where we interviewed leading manufacturers about key trends shaping the industry in 2014. The following is a recap of some of the responses we heard from industry experts (in addition to our own thoughts on technologies to watch throughout the latter half of the year):
Harness the power of digital tools
Digitization, mobility, and the addition of sensors and algorithms in the industrial sector is forcing companies to rethink the way they do business in today's competitive digital landscape. Jason Wilder, Director of Marketing at SixAxis, took some time away from the company's booth at Modex to talk to us about how they're responding to the demands of today's digital consumer.
"We're a manufacturer. We own ErectaStep, SafeRack, and a bunch of safety products and we understand that there has to be a better way to sell these complicated products," he said. "There's an ERP that drives your forecasting, financials, and inventory, but there's nothing other than a CRM [that allows you to keep track of the sales process]."
"Companies need a sales resource planning tool (SRP) and we developed the world's first. It's not just a CRM tool or a configurator, [but a] 'CRM interface' that allows you to get both customer visibility and all of the data [that would need to be input into a normal CRM] automatically and organically. It's a company-wide solution in efficiency, instead of a hard cost or a CAPEX."
Leverage industrial robotics
To meet the rising demand for greater automation and flexibility across the industry, manufacturers are maximizing the relationship between employees and automated machines. Solutions such as industrial robotics can reduce workplace injuries while increasing accuracy and throughput.
In an Industrial Equipment News Q & A about today's evolving manufacturing world, Jeff McNeil, Marketing Manager at Gorbel, said: "Machines [can] do the physical work but are guided by human intelligence and use human guidance to respond to changing circumstances or unforeseen problems. Future solutions will focus less on hard automation and more on human guidance. We'll see more solutions that provide the repeatability of automated solutions, plus the variability and responsiveness of a human solution, without the risk of injury that comes with totally manual options."
When we caught up with him at Modex, Jeff indicated that Gorbel's customers are aiming to be more flexible in how they produce, with the overall goal of being more productive and efficient (two of the biggest manufacturing trends he's seeing this year).
Address the skills gap
The greater technological content of newer machines and products requires more complicated support such as training, maintenance, operations, and services. Jeff Owens, President of Advanced Technology Services (ATS), stated the following in our "10 Insights on 2014 Manufacturing Trends" post from earlier this year:
"As the baby-boomer generation accelerates its rate of retirement, many critical skills will be lost, leaving manufacturers looking for solutions that include ramped-up training, stronger relationships with technical schools, and outsourcing highly technical functions such as programing and production maintenance on the most complex manufacturing assets."
We caught up with two members of the Hytrol team during Modex, and they shared a similar perspective:
"Part of the automation that's taking place is because companies are cutting out the labor but also because they're having a harder time finding qualified labor," said Boyce Bonham, Director of Integrated Systems and Controls, and J. Mitch Johnson, Director of Systems Development. "It sounds silly to say that 99% accuracy on sorting is not good enough, but we have one customer that's sorting 1.2 million items a day. I said to him 'What's your accuracy?' and he said '99%' and I said 'That's really good!' and he said 'No, it's not.' Think about that for a second: 1.2 million items? That's 12,000 cases they sorted wrong and each one of those takes 5 minutes to figure out where it goes. So, with these higher volumes, when you try to squeeze the last little bit out of the system, accuracy is becoming even more important."
Final Thoughts
Aside from the technologies we specifically discussed with manufacturers during Modex, the industry is exploding with innovations such as additive manufacturing (3D printing), flexible electronics manufacturing, nanomanufacturing and more. Despite the rapidly evolving industrial landscape, one thing's for certain: Companies on the cutting edge of innovation will best position themselves for success in the years to come.
Now let's hear from you: What new technologies are you noticing in the manufacturing industry? How is your company evolving with the times?
---
Scott Stone is Cisco-Eagle's Vice President of Marketing with more than thirty years of experience in material handling, warehousing and industrial operations. His work is published in multiple industry journals an websites on a variety of warehousing topics. He writes about automation, warehousing, safety, manufacturing and other areas of concern for industrial operations and those who operate them.
What can we help you with?