5 Forklift Safety Articles for National Forklift Safety Day
A day for highlighting better safety practices for forklifts, walkies, AGV's and other industrial traffic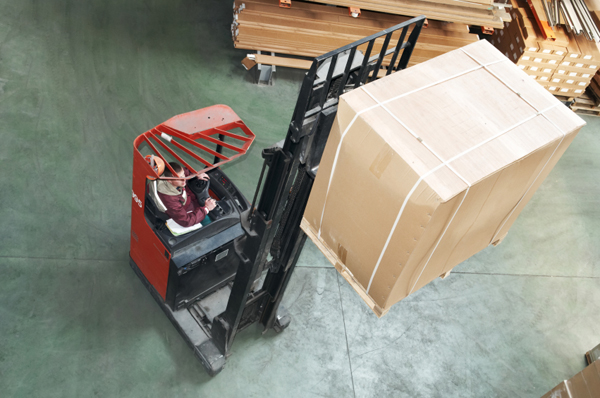 The Industrial Truck Association has designated June 10 as National Forklift Safety Day which will "serve as a focal point for manufacturers to highlight the safe use of forklifts and importance of operator training," according to the ITA website.  Given the issues every operation deals with due to forklift safety, an event like this, that serves as a way to increase awareness for improved safety practices, is an excellent idea.

The ITA is actually running an event on June 10, at the Hyatt Capitol Hill in Washington, DC. They haven't announced the program yet, but we will add that information here when it's up. The need is pressing for better awareness of the dangers posed by forklifts, and the need for better training, processes, and equipment to help deal with it. These statistics have been repeated often, but still bear a look:
Forklifts cause nearly 100 deaths, more than 34,900 serious injuries, and another 62,000 minor injuries  in the United States every year.
A large percentage (42.5%) of these industries occur in manufacturing
11% of all forklifts are involved in an accident every year.
Forklifts are involved in just 1% of industrial accidents, but cause 10% of injuries
Forklift safety articles in advance of the day:
This article addresses the nature of industrial safety equipment and how it might (or might not) comply with industry guidelines. While there are many industry groups, some of which provide safety guidelines, one of the most common is the AIAG (Automotive Industry Action Group). Their guidelines are specific to plant safety, and the interaction between pedestrians and forklifts or other in plant vehicles. If you are considering a solution that involves third party equipment, this article may be helpful in terms of how your proposed solution integrates with AIGA standards.
I agree with most safety experts that safety training is mandatory for any operation that utilizes forklifts. But is it enough? Given the fact that the worst forklift safety statistics haven't truly improved for nearly a decade, you might be wise to not simply double-down on training. Particularly these days, when new technologies like sensors are
According to OSHA, training is the key to forklift safety, and there is fundamental agreement on that. Training can and does make a serious dent in the high injury rates suffered due to industrial traffic. Training must happen, and it must be repeated. But that begs this question: Why has training failed to move the needle when it comes to serious forklift related injuries? The numbers seem to have stabilized at an average of 100 deaths per year, and have stayed consistently at that level for years.
There are many types of powered industrial trucks. Each type presents different operating hazards. For example, a sit-down, counterbalanced high-lift rider truck is more likely than a motorized hand truck to be involved in a falling load accident because the sit-down rider truck can lift a load much higher than a hand truck. Workplace type and conditions are also factors in hazards commonly associated with powered industrial trucks. For example, retail establishments often face greater challenges than other worksites in maintaining pedestrian safety. Beyond that, many workers can also be injured when (1) lift trucks are inadvertently driven off loading docks; (2) lifts fall between docks and an unsecured trailer; (3) they are struck by a lift truck; or (4) they fall while on elevated pallets and tines.
Powered industrial trucks present special hazards not normally encountered outside the production facility, warehouse or distribution center. The functions these types of equipment perform are characteristically hazardous activities, let alone the fact that the equipment itself has inherent attributes that make it hazardous to operate. Since forklifts lack the braking and steering characteristics of automobiles, it's important to understand what the limits are, and how drivers and plant personnel must behave around them.
In many facilities, one of the more dangerous areas is the humble corner, where lift trucks might collide either with each other or people. The potential for serious injuries and extensive equipment damage is significant. There are methods to help drivers and plant personnel negotiate the corner, blind intersection, or rack row.
Tags: forklift safety, plant safety
---
Scott Stone is Cisco-Eagle's Vice President of Marketing with more than thirty years of experience in material handling, warehousing and industrial operations. His work is published in multiple industry journals an websites on a variety of warehousing topics. He writes about automation, warehousing, safety, manufacturing and other areas of concern for industrial operations and those who operate them.
What can we help you with?