Three Reasons to Consider Working with a Conveyor Integration Partner
A guest opinion by Hytrol Conveyors' Matt Farris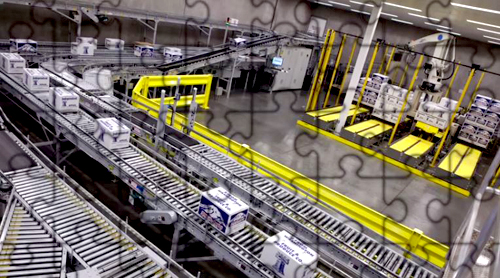 The decision to purchase an expensive material handling system can be a career-defining move. Your company's profitability and future direction is at stake, so it's important to understand every option and potential relationship that comes into play. You can go direct to a manufacturer. You can bring in consultants. You can work with a distributor/integrator, engineer the system internally, or a combination of these methods.
There are questions regarding system integration partners and their role within the implementation process. In this article, Hytrol's Matt Farris discusses the advantages of choosing to work with an integration partner like Cisco-Eagle.
So, what are the advantages of working with an integration partner?
Integration partners provide unbiased best of breed solutions:
An integration partner's primary responsibility is to create a solution consisting of the best equipment and software available for the application to ensure the system meets/exceeds the expectations of the buyer. Because integrators are independent businesses, they are not obligated to specify a particular product line, and can supply equipment that specifically meets the customers' needs. Manufacturers have one agenda—to sell what they build. It's like the old adage that, to a hammer, everything needs to be nailed. Hytrol's integration partners are adept at combining the right solutions from a variety of manufacturers to solve problems and increase efficiency.

Hytrol's integration partners also provide consultation, layout, and design assistance, as well as installation and software. They specialize in marrying conveyor to a variety of processes and machinery, from palletizers to robots to packaging or processing equipment. With a wide range of offerings, they're able to provide the total solution. They aren't that hammer looking for something to nail.
Integration partners provide cost effective solutions:
Hytrol's unique market approach of working through its integration partner network affords us the opportunity to practice lean principles. Our manufacturing facility incorporates these cost-effective standards, which allows us to produce conveyors in the most efficient manner possible and deliver it faster than anyone in the industry. Our staff serves as a support group for our Integration Partner Network and concentrates on supplying the best service and quickest response. This approach allows integration partners to focus on providing the best solution with the right cost structure.
What that means for clients is faster order shipments and world-class support both from Hytrol and our partners, whether the order is a large scale sortation system, a run of powered belt conveyor, or simply a need for gravity skatewheel.
Integration partners provide a unique relationship:
Hytrol provides advanced material handling equipment, and we do it better than anyone in world. Our integration partners marry our solutions with other technology to best fit our customers' needs. Not only do they know local code and regulations, they understand local law regarding providing conveyor equipment, and they are accessible anytime the customer needs them.
Our goal is to provide the integration partner and our customer with innovative solutions that can be installed easily, maintained efficiently, and delivered quickly.
Matt Farris is the Director of Business Development at Hytrol. He brings more than 30 years of material handling experience to the industry. Matt has been working with integration partner to implement the total solution for over 18 years. 
Tags: conveying systems
---
Scott Stone is Cisco-Eagle's Vice President of Marketing with more than thirty years of experience in material handling, warehousing and industrial operations. His work is published in multiple industry journals an websites on a variety of warehousing topics. He writes about automation, warehousing, safety, manufacturing and other areas of concern for industrial operations and those who operate them.
What can we help you with?