Video Library: Carts, Trucks & Mobile Equipment for Safe, Reliable Product Transport
A collection of videos on how to transport product and people in your facility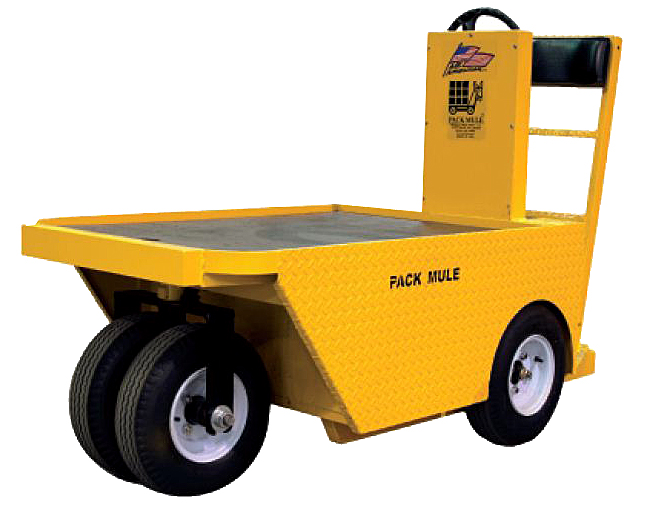 Preventing injury in the workplace isn't just the right thing to do: It makes smart business sense, too. With 1,000,000 reported back injuries a year, accounting for one quarter of all workers' compensation claims (according to U.S. Department of Labor statistics), it's critical for employees to take the proper precautions when transporting materials in the warehouse or distribution center.
Our previous video blog in this series dealt with safety gates & rails to protect employees, inventory, and equipment. Today, we'll explore the ways in which employees can ensure safety and productivity when transporting materials via carts, trucks & mobile equipment and industrial powered vehicles:
The Lift Plus Portable Stacker
The Lift Plus Portable Stacker is an all-in-one stacker, transporter, positioner, and portable work bench that can help reduce injuries while improving productivity and decreasing product damage. The Lift Plus can lift up to 350 pounds with an all-metal frame platform and screw-driven lift that delivers smooth precision that hydraulics or chains cannot match. Because of its unique design, this stacker can be used in tight spaces other mechanical stackers can't.
Industrial Tuggers
Manufacturing and distribution facilities around the world are increasingly using tow vehicles and towable trailers to transport materials on the floor, allowing forklifts to focus on vertical movement (such as loading or unloading pallet racks. Battery powered tow vehicles, which can accommodate one or two people and tow up to 5,000 lbs. at 7 ½ to 11 mph, offer a less expensive, safer alternative to forklifts for heavy load movement.
Industrial Stock Carrier Towing Vehicles
To achieve maximum productivity and return on investment, manufacturing and distribution facilities use industrial stock carrier towing vehicles to tow large loads of stock quickly and easily from place to place. These vehicles, able to carry a hefty 1,200 lb. load or pull up to 5,000 lbs. at a time, have a large deck and dual front wheels for carrying all kinds of things from parts to plants.
Industrial Burden Carrier Vehicles
Industrial burden carriers, ideal for warehouses, distribution centers, airports, manufacturing facilities, and even greenhouses, have a heavy load capacity and a sturdy 14-gauge diamond plate steel construction for durable performance. The spacious rear deck can carry loads up to 1,000 lbs. and the vehicles themselves can tow up to 5,000 lbs. and reach speeds of up to 11 mph (depending on the model).
Industrial Maintenance Vehicles
With the requirements for immediate maintenance in today's factories and distribution centers greater than ever, maintenance personnel must be able to respond by getting the impacted area quickly with the necessary equipment and tools. Industrial maintenance vehicles, which offer a roomy rear deck for carrying tools and supplies up to 1,000 lbs. and a towing capacity of 2,000 lbs., can quickly put manpower and tools where repairs are needed.
Aluminum Pallet for Hand Truck
The aluminum hand truck pallet rides on the nose plate of the hand truck, allowing larger loads to be carried more easily without have to de-palletize or jostle them to lift. An innovation in pallet design, the aluminum pallet can reduce labor and damages to products, while expediting delivery at the same time.
Aluminum Folding Stock Cart
Designed for productivity and safety, the aluminum folding stock cart boasts a zero turning radius, sturdy welded construction with a solid integrated deck, and a vertical storage vertical storage footprint that saves space when the delivery truck is empty.
Final Thoughts
The above list of carts, trucks & mobile equipment can help companies increase productivity while reducing stress and workplace injuries. How is your company taking advantage of carts, trucks & mobile equipment for the safe and reliable transport of products?
Stay tuned for additional video highlights from our new Material Handling Video Library.
Tags: carts, ergonomics, hand trucks, rolling equipment, tuggers
---
Scott Stone is Cisco-Eagle's Vice President of Marketing with more than thirty years of experience in material handling, warehousing and industrial operations. His work is published in multiple industry journals an websites on a variety of warehousing topics. He writes about automation, warehousing, safety, manufacturing and other areas of concern for industrial operations and those who operate them.
What can we help you with?