Vic Leonard: An Appreciation
Vic was the force that guided us from being a "dabbler" conveyor distributor to a fully capable systems integrator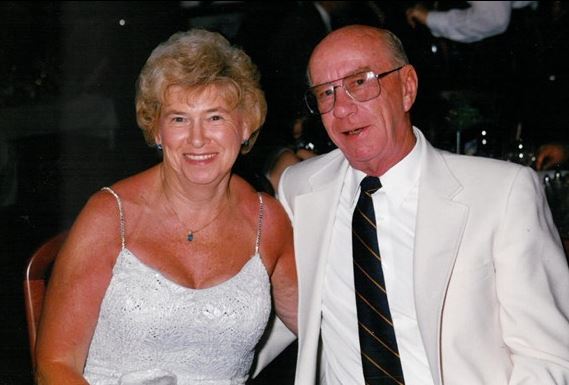 Victor Joseph Leonard, our former vice president of systems design–and a giant in the material handling industry–passed away Tuesday March 31, 2015.
To his family he was a dedicated husband, father and grandfather. To his Cisco-Eagle family, he was the mentor for a generation of conveyor designers, engineers and salespeople. More importantly, he was a friend, a force for change and class individual who will be sorely missed. His wife, Jan preceded Vic in death by only two weeks. They loved going on cruises and spending time with their extended family together.
Vic came to Eagle Material Handling in 1981. We were a very different company at that time than today's Cisco-Eagle. It is no stretch to say that he transformed us.
Eagle Material Handling was primarily a storage products distributor selling racks and shelving from its founding in 1970 through the early 1980's. We had the Oklahoma distributorship for Hytrol Conveyors and worked projects, but not the larger scale systems we would eventually become known for. The purchase that would eventually unite Cisco Material Handling and Eagle Material Handling wouldn't occur until 1985. Both companies sold conveyors, but it was a relatively small line at the time. But our leaders saw a need in our customer base. Warren Gandall and Bill Cupps realized the potential, and hired the best engineer they could find to take us to the next level. Vic moved from Dallas to Tulsa to start his Cisco-Eagle career, before eventually returning to Texas after the two companies merged.
Due to Vic Leonard's guidance, Cisco-Eagle has implemented hundreds of material systems across the country
A 1980's distribution center for QuikTrip was our first $1 million project. Vic executed it in the days before AutoCAD, computers, and CTRL-Z. He drew the entire project by hand–ten subsystems painstakingly drawn and redrawn to perfection–multiple times. The project comprised hundreds of drawings in total. It was a major success, and the start on our path toward many similar projects.
He educated the next generation of our Systems and Design group both in Oklahoma, and later when he returned to Dallas as we grew our Texas operation.
Vic was relentless in his drive to impart his vast knowledge. "Did you learn anything?" was his favorite question as he taught people the complex nuances of conveyor system design.
Vic Leonard, it's been said, has forgotten more about conveyor than most people will ever know. No one who knew his capabilities would dispute that statement. Many large projects that helped create our systems group as it exists today would have been impossible without him.
Vic's impact was not just professional—it was personal
"He always gave the girls in the office perfume for Christmas," said Lisa Spry, an Arkansas sales associate. "It didn't matter if he knew you well or not. All of us girls got a beautifully wrapped bottle of perfume. I've never forgotten it. I thought it was so nice."
In Dallas Vic was known for his final few years at the company for zipping around on his mobility scooter. He'd joke about running you over, swerve around, make a joke, beep his horn–and then he would go solve a problem for someone.
Unrivaled technical skill and a sharp sense of humor were Vic's calling cards. "I worked a project with Vic once in which he explained the customer would need an anti- jam device included in the design," said James Murphy, our Arkansas Director of Sales. "It was a broom handle to unjam the boxes, which he actually sketched out on paper."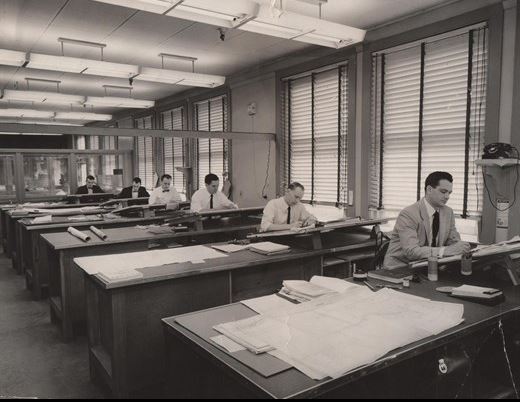 When Bill Cupps and Warren Gandall first purchased Cisco Material Handling in 1985, the transition was characterized by long hours and many days of travel as they integrated the two companies. Vic was still living in Tulsa at the time, while Elbert Haggard lived part time in Oklahoma City. The company had an apartment in Dallas which was shared by visiting Eagle personnel during the days after the companies were joined.
"I worked with Vic for several years before we spent a year sharing the apartment in Texas while we commuted back and forth from Oklahoma," said Elbert Haggard, our retired Manager of Customer Service. "It was during that time that I really got to know Vic and his sense of humor. He was an inspiration to the younger folks at Cisco-Eagle and contributed much to the growth of the company. My prayers go out to his family."
To say Vic's love of martinis was well-documented is a large understatement.
By reputation, Vic's martini was a glass of gin with a dash of vermouth. "He had that martini at 8:00 straight up," said Warren Gandall, who lived on and off with Vic for three years during the transition. "He'd go to dinner, then we'd come home. He'd hold one finger up at precisely 8:00 and tell me it was 'martini time'. He'd have one at eight and another at ten, and that was it. He didn't deviate from that schedule." Martinis were served at Vic's funeral.
Vic was a mentor to so many of our people—most all of the systems & design associates and many of the salespeople who came through the company in the 1990's up until his retirement in 2009.
"Vic was the first one to interview me when I applied at Cisco," said Kevin Harwell, a sales associate in charge of strategic accounts. "I'd been in this business for eight years at another material handling company, so I had some experience. Vic had three questions for me: '(1) Can you spell conveyor?  (2) Do you drink (alcohol)?  (3) Do you smoke?' I answered 'yes' to the first two and 'no' to the last question.  That was good enough for Vic.  He was ready to hire me.
"Vic was a mentor to me and all the things I learned from him have contributed to my success," Kevin continued. "He was so well known throughout our industry. I still have customers ask about him."
He could do things with conveyors that others couldn't
"I remember being at a Hytrol applications class early in my career and the instructor was talking about restrictions that had to be considered when determining what type of conveyor should be used in certain situations," Kevin said. "We had recently installed a couple of systems that went against standard practices because of space limitations. When I started to offer my thoughts on this during a discussion, the instructor looked at me and said: 'You work for Vic Leonard. We know you guys can make things work that others cannot–now sit down and keep quiet!'"
Another "Vic-ism" from Kevin: "Conveyor is an art, not a science."
This statement might describe the man best: an artist who thoroughly understood the science. He applied engineering skills, logic, humor, hunches, sarcasm and art to both conveyors and people—and he made both people and machinery better because of it. Vic Leonard knew how to motivate and encourage and critique and laugh at it all. He was a gracious mentor to anyone who asked him for help and a friend to anyone who spent time around him. Vic Leonard's influence is still very much part of this company—and will be felt for a very long time by a generation of conveyor designers, fellow employees and friends.
We'll miss the man who could make conveyors do what others cannot, but we will mostly miss the man.
---
Scott Stone is Cisco-Eagle's Vice President of Marketing with more than thirty years of experience in material handling, warehousing and industrial operations. His work is published in multiple industry journals an websites on a variety of warehousing topics. He writes about automation, warehousing, safety, manufacturing and other areas of concern for industrial operations and those who operate them.
What can we help you with?