What's Next for Manufacturing Technology?
Key Insights from ProMat 2015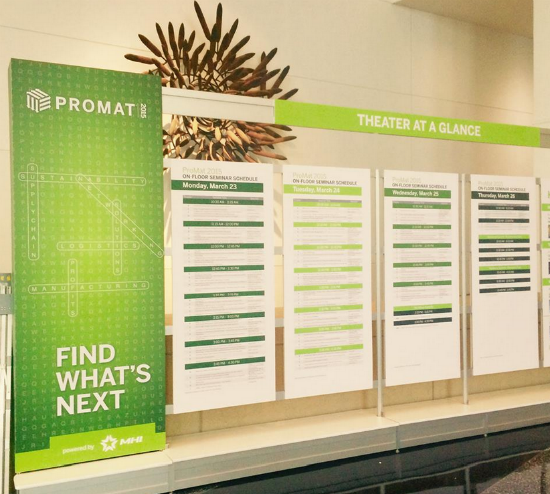 A record number of manufacturing and supply chain professionals gathered in Chicago at the end of March for ProMat 2015, the largest material handling and logistics trade expo in North America. According to an MHI press release, registration topped 37,000—an 8.8% increase in attendance over the 2013 show.
"ProMat 2015 was the largest in the event's 30-year history," said MHI CEO George Prest. "The energy level among visitors and exhibitors was at an all-time high." So what were attendees buzzing about during the show? Manufacturing technology was one topic discussed at length during the four-day event.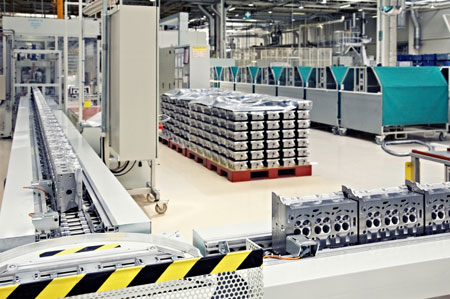 To uncover some of the biggest manufacturing innovations on the horizon, we spent several days meeting with leading-edge companies taking a proactive approach to technology and automation.
Here's a look at what key manufacturers and distributors had to say about technology in 2015 and beyond:
Technology & shifting workforce demographics
"For our organization [caster manufacturer], technological innovation has been a major factor for some time. We have robots making casters, we have plasma-cutting tables, and it's been massive in how we've reshaped our company for the new generation. We're a younger company now and we've had new people come in and soak up information from those who've been in the workforce for decades. At the same time, we're learning from and catering to the Millennials, the future of the industry."
Mike Twitty, Western Territory Manager, RWM Casters
"The interesting part of attending [shows like ProMat] is you see a real push for technical colleges that offer certification programs. The reason being companies are looking to fill the void of an older generation of workers leaving the workforce.
"When there's not the populace to fill that void [as is often the case these days], then these jobs cost a premium for companies, which impacts everything along their operation. Many companies turn to automation in these instances so they don't have to bear the brunt of the overhead of human resources.
And that's really what we're seeing: If companies don't have the populace to get the job done, they're looking for further technology and innovation in automation."
Aaron Lamb, General Manager, Lift'n Buddy
Technology to increase efficiency and boost throughput
"Our machines have been on the market since the 1950s, so the hardware hasn't changed significantly. What we're seeing, however, is companies trying to make their machines as efficient and fast as possible by adding things like Pick-to-Light technology.
"We get a lot of people coming to us and saying things like 'I'm trying to reduce my labor' or 'I've got seasonal labor I've got to deal with.' So they're looking for machines that are very quick to operate and easy to understand.
"We're seeing more laser pointers and Pick-to-Light technology so that workers don't necessarily have to be familiar with the inventory that they're working with. It doesn't matter if you recognize the part, it doesn't matter if you can't read the part number or the description. There's a light that points it right to the right location. You can go and grab it very quickly."
Dave Schneider, Marketing Manager, Hanel Storage Systems
"All of our systems are area scan technology, which essentially means we're taking a picture of the scene. As packages go through on the conveyor, we're taking package dimensions and barcode data and marrying that information together. And then, at the end of the conveyor, we're taking an image of the entire box and sending that image to our real-time monitoring software platform. This type of system allows our customers to get real-time information on why they're getting no-reads and make decisions on how they can improve inefficiencies and throughput in the warehouse."
Mike Jones, ID Sales Engineer, Cognex
Technology & automation in manufacturing
"With our automatic equipment, we are now designing maintenance and operator manuals into the human interface screens, which is reducing the importance of the 'maintenance manual.' Typical operator adjustments, maintenance checks, and schedules are incorporated into the HMI along with photo and videos to provide instant knowledge to the operator in determining what to do instead of looking for a written manual for support."
Graham Nicholson, President, Phoenix Stretch Wrappers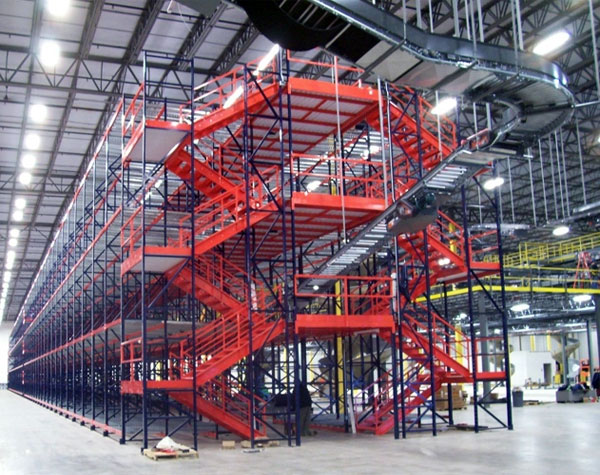 Technology & Automation in Distribution Centers
"This year, we're doing a lot more with distribution centers. Pick modules are a very big product line for us at the moment, and a lot of that has to do with trucking regulations. In other words, people are figuring out where their distribution centers should be, based on how far a truck can drive before it has to stop. Well, there's such a shortage of drivers that they're trying to make it within those lanes and keep it that way. So it's not only more distribution centers to help with that, but then also return centers.
We're also into the automated storage and retrieval systems (AS/RS). There's very few people in it. We've done quite a few. Your big distribution centers, that's what they're moving toward."
Kelly Kubisiak, Marketing Manager, Steel King
Data visualization
"While our product isn't necessarily rooted in technology – we're hammering in and texturing our products into the base and our columns slide left to right – what we're seeing is that there's a lot of new technology out there (i.e., scanners, 3D configurations, etc.).
"We work with that type of technology, too. We create CAD drawings and 3D drawings for our customers so they can see how things look. With us, if the power goes out, our product still works. With other companies, if their power goes out, that means it doesn't work."
Brian Chan, Integrated Fabric Resource, SpeedCell
Leading manufacturers and distributors are taking a proactive approach to technology in an effort to address shifts in workforce demographics, increase warehouse efficiency, and compete in an increasingly digital manufacturing environment. Thanks  to all of the companies that took the time to meet with us during ProMat 2015.
Stay tuned for additional interview excerpts, blog posts, and key takeaways from ProMat 2015.
Tags: Manufacturing, manufacturing technology, ProMat
---
Scott Stone is Cisco-Eagle's Vice President of Marketing with more than thirty years of experience in material handling, warehousing and industrial operations. His work is published in multiple industry journals an websites on a variety of warehousing topics. He writes about automation, warehousing, safety, manufacturing and other areas of concern for industrial operations and those who operate them.
What can we help you with?