How RWM Casters is Adapting to a Changing Manufacturing World
An Interview with Mike Twitty of RWM Casters at ProMat 2015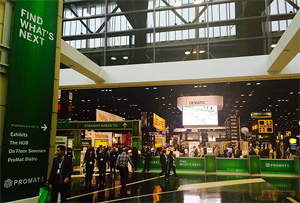 While at ProMat 2015 we caught up with Mike Twitty at the RWM Casters booth to chat about new trends, changes, and  initiatives he's seen in the industry. Here's  what Mike had to say:
Cisco-Eagle: What important trends do you see shaping the manufacturing industry this year?
Mike: We're seeing a lot of re-shoring this year – owning the processes of what you produce. American manufacturing is coming back. Several years ago we kind of led our market. We made sure we're the U.S. master manufacturing company and I would say that's a continuing trend for us. It all comes down to how flexible you are meeting customer's demands and knowing what they're looking for. So, re-shoring and being able to adapt to different ways to help your customers are huge.
Cisco-Eagle: So, what are some of the most important trends for distribution and warehousing this year?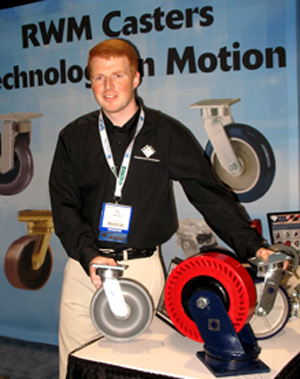 Mike: Distribution is interesting because different markets handle distribution in different ways.  For example, we're different from many of our competitors in how we work with distributors because we see it as a partnership, a two-way street. Not as "Hey, we're another product that you can sell. Another number in the world." We want to be involved in the process. We have a very select market of very huge distributors that we trust, that we do good business with versus a broad spectrum. I think more and more companies are looking for that partnership – one that builds trust.
Cisco-Eagle: What else do you look for in a partnership?
Mike: We look for a cultural fit.
Cisco-Eagle: Does that foster a lot of retention and loyalty, too?
Mike: Definitely with distribution partners – our customers. It's expensive to get new customers. You want to make sure you do a good job with customers that you already have.
Adapting to a changing workforce
Cisco-Eagle: How will workforce demographics, like an older retiring workforce and younger millennials coming in, affect the manufacturing industry this year? A lot of people have been talking about the sales gap that exists…
Mike: It's different depending on the job. You can see it with us. We have a lot of younger people with us now. Whereas the industry and the market used to be a lot older. It's kind of like a new ship is coming in and it's different. You've got to be able to cater to both the new folks, the millennials, and you've got to be able to cater to the older generation – and that means two very different ways of doing things.
Yeah, we're a younger company now and we've definitely had new people come in. We try to soak up as much information as we possibly can from them. On the other hand, we had a guy retire from us three years ago who had been with us 60 years.
Cisco-Eagle: Would you say it's a lot like the difference between our parents' generation and their parents' generation – people just don't stay in jobs for 60 years anymore?
Mike: It's like what my dad always told me about his generation. They would move from company to company and that's continued to be the trend to now. Whereas before, once you found a company, you stayed there. That's what it was with our gentleman who retired after 60 years.
We have had several people in the shop that had been there 64 years, 50 years. We still have a lot of that and they're extremely knowledgeable and critical to our mission. It speaks to the kind of company we are that people want to stay around that long. We want to be that kind of company, but at the same time, we've got to make sure we're not stagnant. We've got to be developing and growing.
Cisco-Eagle: Does RWM have an apprenticeship program for some of the newer people coming in? Or is there some sort of informal process?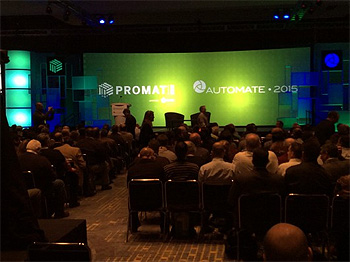 Mike: I would say it really depends on the position. We don't really have any sort of official program, per se. A lot of it comes down to finding the right people for the positions. We just hired a new marketing position this year, which is something we've wanted to do for some time, and we were finally able to find the right candidate.
A lot of the time it comes down to the department that's over a position and how they handle their on-boarding process. As a company we try to do our best. We're not a massive company, not one of the "BIG" companies. We try not to get bogged down in processes and procedures and "Our policy is this." We want a more open environment, and that actually kind of plays into what you're asking about the millennials. They want a more flexible work environment. It's not the 9 to 5 lifestyle anymore. It's more "what kind of creative environment can I be in?"
Safety in the manufacturing world
Cisco-Eagle: How is your organization prioritizing safety?
Mike: It's always number one. I wouldn't say it's never going to change, but it's always been at the top for us and several of our customers. You know, "if you're going to do something, you better do it right" and preferably, you do it right the first time. So safety is number one with us.
When we're talking about the heavy loads our products handle – if something goes wrong, there's a person using that product who could get crushed. So it's critical that you get it right, and we're constantly trying to come up with new things to enhance the safety of using our products. Whether that's ways to protect people from getting run over on the casters, different kinds of ergonomic blocks to prevent back injuries, better rolling wheels, more knowledge about what the right products are in the right situations, that's what we do.
Cisco-Eagle: Okay, that leads me to my next question – how does your product line relate to safety? Do you see technological innovation becoming a major factor in manufacturing?
Mike: I think it already has. It definitely has for us, a caster manufacturer. Take a look at the Automate Show next door, all the robots and stuff – that's in our plant. We have robots making casters. We have plasma-cutting tables. It's been massive in how we've reshaped our company for the new generation to meet those demands if you have to.
Cisco-Eagle: In what ways are you adapting to the industry's rapid growth and change other than what we've discussed?
Automating the manufacturing line
Mike: Well, we talked about the re-shoring, which is a big thing and then the automation and different equipment. Really, for us, it's been trying to find the core of our market and focus on what we do best. We do a lot and we have a lot of different products, but there are certain areas that we're best at, and knowing what you're best at and working with those targeted and qualified customers, that's something we're doing to really focus on growth.
Cisco-Eagle: Final question – what would you say are the biggest takeaways from this year's show?
Mike: Hmm… this year's show… I think a lot has to do with what we've seen in our booth – the importance of engaging with our current customers. Not just new customers. In the past, it's been 80 to 90% new and 10 or 20% are current. This year, it's 50/50 it seems.
Cisco-Eagle: Why do you think that is?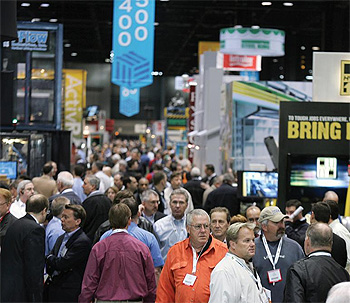 Mike: You know, I think people are staring to get back out into the trade shows. It kind of went stagnant for a while. Even us, our company – we were out of it until four or five years ago. About four years ago we got back into it and it's not about the number of people that we talk to or things like that. It's about the quality of contacts and engaging with the right people. So, I think a lot of our distributors and a lot of our customers have seen the value come back, so they are coming by. That makes it worthwhile for us because we always want to be in touch, in tune with our clients.
Cisco-Eagle: Yeah. I read the other day that in-person events drive the biggest content for the manufacturing sector. The numbers were like, 70% for in-person events. I thought that was surprising because it seems sort of like a dying channel. What's your take on the value of face-to-face contact?
Mike: Oh, yeah, it's still going to be the number one method of communication. So many people get fraud in emails and especially the younger generation. It's just so easy to send a text or an email, but you lose your tone. A lot of times things can be taken wrong, taken out of context. You've got to be able to pick up a phone and call somebody, or talk to them personally face-to-face to keep that relationship. That's really the foundation – effective communication is right at the top of your relationship with a customer.
Tags: Customer, Interview, Manufacturing, Mike Twitty, ProMat 2015, Relationships, Retention, RWM, trends, warehousing
---
Scott Stone is Cisco-Eagle's Vice President of Marketing with more than thirty years of experience in material handling, warehousing and industrial operations. His work is published in multiple industry journals an websites on a variety of warehousing topics. He writes about automation, warehousing, safety, manufacturing and other areas of concern for industrial operations and those who operate them.
What can we help you with?